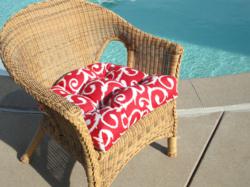 Whether you're revamping an existing style or creating a new outdoor space, BuyNowOrNever.com has affordable options.
Maryland Heights, MO (PRWEB) May 24, 2013
Now that the warmer months have arrived full force, you'll want to get outside and soak up some sun. But if your outdoor rooms need a bit of TLC before you can host a BBQ, look no further than BuyNowOrNever.com for affordable outdoor home decor.
BuyNowOrNever.com carries both Sunbrella and Outdura brand outdoor cushions and pillows, but at a 50%-54% off price tag. This outdoor decor comes with a five year no-fade warranty.These outdoor living accessories are fast drying, making them ideal for use outside and in inclement weather. Made in the USA, these products are a cinch to clean and can be used both indoor and out.
The lineup of products includes tufted and flat cushions in a variety of sizes ranging from small sitting chairs to lounge chairs. Square and long pillows are also easy to find at the online store. Striped, floral and solid patterns are available in a variety of colors to match your existing outdoor furniture and decor, or to add a new style to your outdoor space.
Whether you're preparing your outdoor living space for a fourth of July bash or simply want a fresh look, BuyNowOrNever.com has many affordable choices.