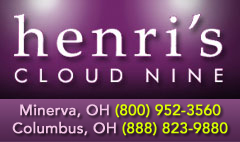 The form fitting silhouettes you'll see in both the long and short styles are great for showing off your curves.
Minerva, Ohio (PRWEB) May 23, 2013
Lace, velvet, and pearls are all returning to popularity with the recent release of this year's fall homecoming collections. Top designers are focusing on the details of each design to give their old Hollywood inspiration a modern flair for today's teenage market. Henri's Cloud Nine will officially launch its 2013 homecoming season on June 1 with high hopes that young customers will find new life in vintage details.
Homecoming dresses this year include styles that cover a wide variety of designs - everything from last year's very popular short, poufy skirts with corset-like bodices to sleek and sexy high neckline, collared looks that make a bold, high fashion statement. All the dress cuts are form fitting through the natural waist with many designs including intricate beading and belts to create an hourglass silhouette.
"This homecoming season is all about vintage glamour," said Christopher Widdoes, Creative Director for Henri's Cloud Nine. "Fabrics like chiffon and velvet with elaborate beading and crystals over lace, illusion back designs, and sheer elements are going to be very hot this year. You'll see a lot of new colors, too, like gunmetal and plum. Very sophisticated and elegant."
Homecoming accessories for 2013 are just as glamorous with sparkling clutches, chandelier earrings, and big, chunky bangle bracelets becoming increasingly popular. Shoes range from traditional high heels, to glittering flats, to over-the-top cowboy boots.
"Sleeves are making a surprising comeback. Cap sleeves, long sleeves, we're even seeing shoulder shrugs and off-the-shoulder sleeves in this year's collections." Widdoes said. "Fit is very important. The form fitting silhouettes you'll see in both the long and short styles are great for showing off your curves. Above-the-knee slits and short, poufy, tulle skirts, very popular details from last season, are perfect for showing off your legs and heels."
Henri's Cloud Nine carries all of the nation's top designers including Jovani, Sherri Hill, La Femme, Tony Bowls, Wow, Blush, Terani, Mori Lee, Night Moves, Partytime, Riva, and Vienna.
The official 2013 homecoming launch will take place at Henri's Cloud Nine with locations in Minerva and Columbus, Ohio on June 1, 2013. Preview some of the season's styles online before they become available for purchase at http://www.henris.com.