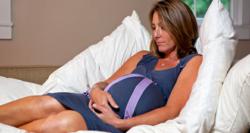 West Des Moines, IA (PRWEB) May 23, 2013
Bliss Baby & Maternity is proud and excited to now offer the BG Birthing Gown. Many women that are going to the hospital to deliver their baby don't want to experience the "not so pretty" hospital gown when giving birth and for pictures right after. Giving birth is one of the most beautiful things a woman can do and some women want to look pretty and most of all feel comfortable. The birthing gown reveals the beauty of pregnancy while remaining fully functional for the medical staff. The gown has soft luxurious fabric, baby fine Velcro at the shoulders, wrap style dress, and full coverage front and back.
The Birthing Gown is a stylish wrap dress made of soft jersey. The stretch fabric will give the soon to be mom the freedom to move and the versatility to sit on a birthing ball, squat and give birth. The Birthing Gown wraps around the body and ties closed at the empire waist, never have to reveal anything. It is a dress that gives women confidence to be actively involved in the birth process and is comfortable and fits well.
Don't worry that the hospital won't let it be worn in the delivery room, many hospitals encourage it because the new mom is comfortable and relaxed in the gown. The BG Birthing Gown is also sold in many hospitals and medical centers all over the nation. This is a great mom to be gift or a baby shower gift and anyone would truly appreciate.
The gown can also be worn after pregnancy for a comfortable night gown with easy access for nursing during that middle of the night feeding. The birthing gown is available in six pretty colors and retails for $64.99 and the gowns come in a "one size fits most". For a limited time, go to http://www.blissbabyandmaternity.com and enter MAY10 at checkout for a 10% discount.