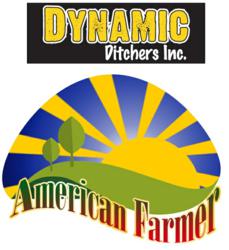 Manitoba, Canada (PRWEB) May 23, 2013
Dynamic Ditchers Inc., announced today that they will be featured in an upcoming episode of American Farmer airing later this year on RFD-TV.
Dynamic Ditchers produces the Wolverine Extreme, a machine that scrapes and spreads soil in a single operation, creating and maintaining ditches, waterways and terraces faster and more efficiently than a land scraper or a dozer.
In this episode of American Farmer, viewers will learn about the Wolverine's five foot wide cutting blade, similar to a land scraper, which makes 2-6 inches cuts at 1-4 miles per hour. The dirt is forced into a rotating impeller by a rotating drum with fingers and paddles that direct the dirt into the impeller. Audiences will be educated on the Wolverine's rotating impeller, which is driven by the tractor's power take off, spinning the dirt out – and spreading it up to 150 feet either to the left or the right. This episode will surely amaze American Farmer spectators as they learn how this machine saves time and cost by combining scraping and spreading into a single operation.
"Making ditches with the Wolverine is more enjoyable and more efficient than ever before," said Charlie Cowan, Producer for American Farmer. "The Wolverine glides down the field making it easier and less bothersome for farmers, without piles to worry about dealing with later."
About Dynamic Ditchers:
Adolf Vaags, a retired farmer, had a vision for a better way to move dirt. Working with their customers in Western Canada and the Midwestern US, Dynamic Ditcher's Wolverine Extreme Ditcher has advanced to a new standard in ditcher performance, efficiency and durability. The
Machine works in wet or dry conditions and all soil types except soils with a lot of rocks.
For more information, visit: http://www.dynamicditchers.com or call 306-540-6968.
About American Farmer:
American Farmer is a breakthrough program on a mission to showcase the latest advancements in agriculture and farming. From seed to harvest, livestock and more, our producers have traveled the country covering the people, places and issues impacting all areas of farm country.
American Farmer airs Tuesdays at 8:30am EST on RFD-TV as well as Saturdays at 1:30pm and Midnight EST on RURAL-TV.
For more information visit: http://www.americanfarmertv.com or call (866) 496-4065.
Media Contact:
Charlie Cowan, Producer
(866) 496-4065 x 875
charlie(at)americanfarmertv(dot)com