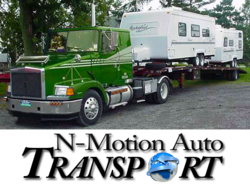 "Our influx of customers around the nation is due to the increased number of vacationers," says Ryan Pratt, President of N-Motion Auto Transport.
(PRWEB) May 23, 2013
Thousands of snowbirds flock to the south during winter months while many Texans and Floridians migrate to the north during summer months. Most of the time your recreational vehicle is just that - a home on wheels that can be relaxed in while cruising around the nation. Sometimes, however, you might just want to enjoy the RV as a home away from home without having to actually drive it to point B.
The N-Motion Auto Transport family loves to vacation as much as the next family and they know how important time management and budgets are. Like many families, N-Motion Auto Transport now coordinates the RV transport according to specific criteria such as arrival/departure dates. Just let a nationwide car shipping agent know the specifics and they can make sure to adjust accordingly.
The increased services of N-Motion Auto Transport have now reached out into the recreational vehicle industry. The increased network of RV transport carriers gives N-Motion the flexibility to establish more realistic time frames and reduced shipping rates. By having relationships with these drivers, the transport will run much smoother and worry-free for the customers.
Popular Auto Transport States:
Alaska
Arizona
California
Florida
Georgia
Hawaii
Illinois
New York
Ohio
Texas
About N-Motion Auto Transport
N-Motion Auto Transport is the nation's premier provider of car, RV, truck and motorcycle shipping services. N-Motion's goal is to provide value priced transportation to each and every client to build lasting relationships. This kind of dedication has helped vault them to be one of the largest and most respected door-to-door shipping providers in the nation.
For more information on RV shipping, call N-Motion Auto Transport at 1-855-407-4160.