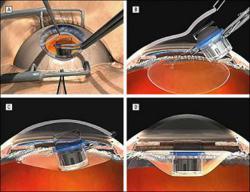 The telescope projects an image onto an undamaged portion of the retina, making it possible for patients to recognize faces, read and perform daily activities.
Wilmington, NC (PRWEB) May 22, 2013
Wilmington eye surgeon Dr. Laura Harris implanted a 4-millimeter telescope in the right eye of a 76-year-old Brunswick County patient to treat his end-stage Age-Related Macular Degeneration (AMD), which affects nearly 15 million Americans in some form.
Along with Dr. Harris, the CentraSight team performing the surgery in April includes Dr. Robert Brownlow and Dr. Leon Charkoudian, retinal specialists who coordinate the treatment; and Dr. Edward Paul, a low vision specialist who handles pre- and post surgical therapy.
"Macular degeneration damages the retina and causes a blind spot in the center of a person's field of vision," said Dr. Paul. "The telescope projects an image onto an undamaged portion of the retina, making it possible for patients to recognize faces, read and perform daily activities."
Clinical trials demonstrated that the implant, in addition to improved vision, increases patients' independence. It also aids social interaction by making visible the facial expressions of family and friends. The device is integral to CentraSight, a new patient care program developed by VisionCare Ophthalmic Technologies.
The Food & Drug Administration approved the miniature telescope last year for use in patients with irreversible end-stage AMD. Medicare covers the implant cost. After surgery, implant patients work with the low vision specialist and occupational therapists from Well Care Home Health to retrain their brain to recognize images projected through the device.
For pictures of the telescopic implant, educational videos and information about the treatment program please visit http://www.DrEdwardPaul.com
Dr. Paul's office telephone is (910) 256-6364 and he can be emailed at epauljr(at)aol(dot)com
About Macular Degeneration
•Macular degeneration affects the macula, the part of the retina needed for detail central vision. Patients do see things to the side with their peripheral vision, but it is too blurry for detailed vision like reading.
•The first signs of macular degeneration may include wavy lines, distortion, or blurry spots when reading.
•There are two types of macular degeneration (wet and dry). There is no medical treatment for the dry form of the disease.
•Low vision rehabilitation provides Spectacle Miniature Telescopes and other magnification aids to help restore lost vision.
About Dr. Edward Paul., OD., PhD.
Dr. Edward Paul, Jr., OD, PhD is the developer and researcher behind TOZAL, a medication to help patients with macular degeneration, diabetic eye disease, and dry eye syndrome. An experienced clinician, researcher and educator, Dr. Paul has served as professor of ophthalmology at two international medical schools and was chosen as one of "America's Top Optometrists" by the Consumer's Research Council of America. Dr. Paul is one of only 30 eye physicians in the United States recognized as a Fellow of the International Academy of Low Vision Specialists (LowVisionEyeDoctors.com). Dr. Paul is author of several books, including Conquering Macular Degeneration and 101 Great Ways to Health.