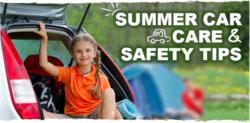 July Fourth, Labor Day and Memorial Day each surpass New Year's Eve and Thanksgiving as the holidays with the most fatalities
Lakewood, NJ (PRWEB) May 26, 2013
According to the National Highway Traffic Safety Administration, the summer holidays are the most dangerous days to drive. July Fourth, Labor Day and Memorial Day each surpass New Year's Eve and Thanksgiving as the holidays with the most fatalities.
There are many factors that lead to the dangers, including drunk driving and the increase in traffic volume; however, one factor that many drivers may not consider is that weather conditions can create road hazards as the temperature heats up. Here are three hazards and solutions to keep drivers safe this summer:
1. Allergy Season: Spring and summer allergies cause both drowsiness and sinus pressure. At 70 mph the driver can lose vision up to 110 yards.
Solution: Speak with your doctor about various allergy medications and their potential side effects. In order to lessen your exposure to pollen, use the air conditioner in your car rather than open windows and regularly vacuum your car and wash car mats. Keep tissues at the ready. Feel a sneeze coming on? Slow down and allow your car to drop back in traffic.
2. High temperatures: The heat can aggravate minor damage to rubber tires leading to punctures and blow-outs.
Solution: To prevent such an occurrence check your tires before your road trip. Look for cracks and check for sufficient air inflation. You may want to increase the air pressure to compensate for any extra weight you may be carrying on your road trip.
3. Thunder Storms: heavy rain can impair vision and the wet raids can decrease the effectiveness of the car's brakes.
Solution: Keep the car's radio on to stay apprised of the storm's development. In rainy weather, use your low beams and drive slower than usual. Brake earlier to leave more distance between your car and the car ahead. If the rain becomes very heavy, pull onto the shoulder of the road, making sure to choose a section of the road with no trees that could become uprooted and fall onto your car. Use your emergency flashing lights. In case of lightning, avoid touching conducting (metal) surfaces both inside and outside of your car.
For more information on Summer Road Safety Tips, please visit:
http://www.kars4kids.org/blog/summer-road-safety-tips/ and follow the Kars4Kids Facebook page.
###