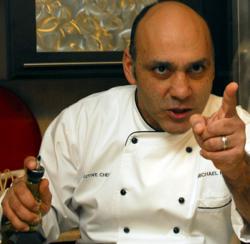 It's quite a compliment to be nominated by my peers...
Milwaukee, Wi (PRWEB) May 23, 2013
Chef Michael Feker of IL MITO Trattoria e Enoteca and IL MITO East has been named one of the Best Chefs in America by his peers and will be included in the inaugural edition of Best Chefs of America (BCA) book, the first industry peer review guide of chefs.
BCA conducted more than 5,000 one-on-one interviews with the best chefs in the nation to find the leading national and state chefs. Chefs earning the highest scores among peers in their region, were included in the guide.
Chef Feker, a member of the James Beard Foundation, promotes his mission of getting people back to the table to share both healthy meals and conversation through his two restaurants, culinary school, cooking demonstrations and on his television show, Feker's Kitchen, on WITI's FOX 6 in Milwaukee.
"It's quite a compliment to be nominated by my peers," said Chef Feker. "We all learn from each other and share a common love of preparing great food. So it's truly an honor to be recognized by them."
Chef Feker is an accomplished chef with more than 25 years of culinary experience, trained in classical French style at the California Culinary Academy (CCA). He learned under the tutelage of renowned chef Roberto Gerometta and has owned restaurants in Los Angeles before moving to Milwaukee.
In addition to his restaurants, Chef Feker also works as a culinary consultant to Wisconsin's largest healthcare provider, Aurora Health Care, assisting them in revamping and reviving their culinary techniques and practices to bring fresh and pure foods to both patients and staff, and to hospitals in general.
Chef Feker introduced his Il Mito brand to the Milwaukee area in 1997 and opened his new restaurant, Il MITO East this year.
"Chefs themselves truly understand what it takes to be successful in this competitive industry, and Best Chefs America offers them a forum to express their views," said Elizabeth Fishburne, BCA lead analyst. "Based on the overwhelmingly positive response from more than 5,000 participating chefs, it is clear that the chef world was ready for us."
About IL MITO
IL MITO Trattoria e Enoteca is an award-winning Italian restaurant and wine bar located on the East side of Wauwatosa. The restaurant opened in 2006 and has become one of the region's most popular Italian eateries.