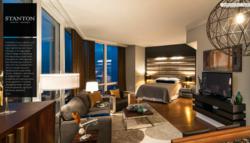 This website is a great showcase for our work as well as a resourceful marketing tool.
(PRWEB) May 24, 2013
Stanton Interior Concepts has just launched their new overhauled website designed by Idea Marketing Group. Stanton IC is a design firm focusing not only on the design and interior of a space but also the branding and uniqueness of each individual project. President of Stanton IC, Loren Stanton, has built a strong foundation for his company's success and creativity due to his years of experience working for various other high-profile design firms. Loren has a strong focus for the business and consistently exceeds his client's expectations of design as well as his ability to remain within budget.
After enlisting the expertise of Idea Marketing Group, Stanton was ready to set their wheels in motion. Because interior design is an aesthetic industry, high impact visuals were a must. This brought photographer Nick Ulivieri into play to photograph the Trump Tower and various other Stanton project sites. Each page of the website features a background of a high-impact photograph as well as an interactive photo gallery in which visitors can view different collections of the various Stanton designed locations. With the implementation of high-impact visuals and rebranding, Idea was able to overhaul the Stanton website.
The new website was built on a Wordpress platform to facilitate easy backend navigation. Wordpress websites make updating content simple, even for those who aren't very tech-savvy. This comes highly useful for websites that have blogs such as Stanton. Stanton's blog is a great for increasing the website's search engine optimization (SEO). Including keywords and phrases within the blog content helps the optimization and makes the website appear higher on search engine results, resulting in greater traffic. Good blog entries can include information about new partnerships, projects, tips and tutorials and industry news.
Stanton values the importance of social media and connecting with clients on multiple platforms. Within the blog, visitors are encouraged to leave comments about the articles and provide feedback. Their comments are left via a Facebook comment box and directly post to their individual Facebook page, creating a greater reach. The display of their comments on individual pages will encourage others to get involved and generate conversation, bringing greater awareness of the Stanton website. President Loren Stanton highlights "we take great pride in the creativity our group produces. To find a company that can match our professionalism and creativity within their own industry is unique. We are happy to have worked with Idea on this project."
To check out the new Stanton Interior Concepts website visit http://www.stantonic.com.