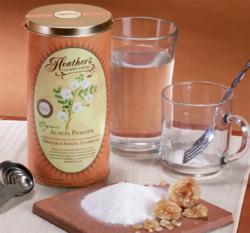 Natural, gentle, and yet effective support for weight loss, Acacia Powder is a natural fit.
Dallas, TX (PRWEB) May 23, 2013
The latest diet craze to hit the airways and social media is Acacia Powder or Acacia Fiber as it is sometimes known. After being featured on a national TV health and wellness show, demand for this soluble fiber has skyrocketed across the country as scores of people look for a solution to lose those extra pounds before summer.
SoViva Naturals, a leading seller of high quality health and wellness products, is reporting the demand for Acacia Powder has surged ten fold in the last 30 days and continues to rise. "We are experiencing such high demand that we simply cannot keep the product in stock," says SoViva Naturals president, Brandon Larson. "For those looking for a natural, gentle, and yet effective support for weight loss, Acacia Powder is a natural fit," says Larson.
So why so much interest in Acacia Powder? Is this a "miracle" solution for weight loss? "Frankly, there are no 'miracles' when it comes to weight loss but Acacia comes close." Larson goes on to state that, "as a natural fiber Acacia expands in the stomach making you feel full faster and thus eat less. It also improves overall digestion and may help those with digestive issues like IBS and chronic constipation."
So is Acacia Powder a diet fad or diet "miracle"? Only time will tell but as millions scramble to get in shape for the summer, it's nice to know there are natural options.
SoViva Naturals is an online retailer of premium dietary supplements and natural health products made in the U.S. SoViva Naturals is devoted to assisting others in reaching their weight loss goals, improving their lives, and helping countless others Discover a Whole New You. Visit http://www.SoVivaNaturals.com to begin your journey into a healthier lifestyle.