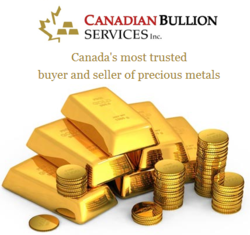 "Customer service and satisfaction is extremely important to us at Canadian Bullion Services, I am very confident that customers will have a pleasurable shopping experience with our newly launched easy-to-use website" says the company's CEO Danny Kroll
Toronto, ON (PRWEB) May 28, 2013
Canadian Bullion Services launches its highly anticipated, new e-commerce website. The website will still feature all of the contents from the existing website including blogs, featured news, videos and free e-guides.
The new website will now allow customers to purchase precious metals online 24/7. The online store offers a great assortment of all four precious metals: gold, silver, platinum, and palladium. Whether you are looking to purchase minted bars, wafers, rounds and coins, it can all be done securely through the new website.
By launching a new e-commerce website, it opens up to more customers by offering a greater variety and smaller order quantities. Canadian Bullion Services assures it will still offer the best premiums. In addition, the shipping on products is guaranteed to be fast, secure and 100-percent insured.
The website can be found at the same address – http://www.canadianbullionservices.com.
About Canadian Bullion Services
Canadian Bullion Services is a precious metals dealer located in downtown Toronto. Its management has more than 50 years of financial services experience and one most respected names in the industry. Its superior customer service and competitive pricing is what places it among the top precious metals dealers in Canada.
For more information visit http://www.canadianbullionservices.com or contact us at info(at)cbmetals(dot)com if you are interested in adding precious metals to your portfolio.