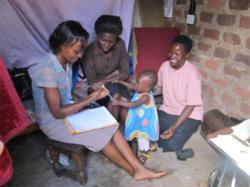 There cannot be quality health care without clean water. Safe drinking water and hygiene are essential for good health.
Fairfax, VA (PRWEB) May 28, 2013
Dr. Elvira Beracochea, global health leader, mentor, coach and MIDEGO CEO announces the winners of the 2013 MIDEGO Global Health Photo Contest. MIDEGO's Global Health Photo Contest received entries from across the globe. Each photo depicted "quality" in healthcare. The contest will be held annually to celebrate and reward the efforts of global health leaders.
The 1st place winner is Ms. Christine Namumbya of Uganda. As her winning photo demonstrates, Ms. Namumbya is a leader in her community helping families be healthy and take care of their children. Ms. Namumbya is a committed global health leader who achieves all of her improvement project milestones.
The 2nd place winner is Pastor Timothy Iduuli, who is also from Uganda. Pastor Timothy is a global health leader who is helping his community get ahead 1% at a time. He works with his community to improve the supply and quality of water for all. The community infrastructure needs to be developed to support the population. As Dr. Elvira points out, "there cannot be quality health care without clean water. Safe drinking water and hygiene are essential for good health."
The 3rd place winner is Mr. Auwalu Bashir from Nigeria, who demonstrated outstanding leadership in mobilizing the communities in the State of Bauchi to improve maternal and child health.
Look for the winners of the Global Health Photo Contest to be featured on upcoming editions of the Global Health Leaders Radio Show.
About "Global Health Leaders"
Hosted by BlogTalkRadio, "Global Health Leaders" is an interactive, live Internet talk-radio show that focuses on the career development of health professionals anywhere in the world so they can all become leaders in their own field. Dr. Elvira Beracochea believes that change is brought about by those who rise up to the challenges, but they do not have to do it alone! Through the coming months, host Dr. Elvira Beracochea will explore and provide perspective on the many different aspects of developing a successful career in global health, ways to become a true leader and to develop an efficient health system. Guests featured on this program will provide relevant advice and tips that help them to succeed and make real contributions to the field of global health.
Callers are encouraged to call (347) 857-3528 or by Skype™ MIDEGO at midegousa to listen or ask questions. The stream and archives are available at http://www.blogtalkradio.com/global-health-leaders. The show is live every Friday morning at 9 a.m. Eastern/ Washington DC time.
About MIDEGO
Founded in 2005, MIDEGO is a well-established global health consulting company, specialized in professional and organizational effectiveness in the health sector. MIDEGO's mission is to help countries exceed the Millennium Development Goals, hence the name of the company. MIDEGO helps clients improve how they work and save more lives while advancing in their careers. MIDEGO also works with partners to create and implement effective and efficient organizational health development strategies that are led by empowered local leaders. MIDEGO's online training and coaching programs help health professionals realize their career mission by leading the kind of changes they know they need to bring about in their countries.
Clients include:
*Donor organizations that want to achieve sustainable results by empowering local health professionals.
*Non-governmental and private sector health organizations that want to improve the services they provide and ensure they achieve their goals.
*Health professionals worldwide whose vision is to improve the quality, efficiency and consistency as well as the coverage of health services and contribute to the overall all goal of global health: achieving the Millennium Development Goals and health for all.
Find out more at http://www.midego.com