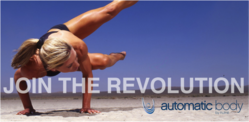 The Ronald McDonald House is amazing in not only supporting the medical needs of the children, but also helping the family so they are able to be by their child's side. It is an amazing charity that we are proud to support! "
—Kim Lyons
Fresno, California (PRWEB) May 23, 2013
Get ready to sweat.
Automatic Body by Nutrié is sponsoring an exciting celebrity workout in conjunction with the Nutrié California Kick Off on Saturday, June 8th, at 8AM. Here, training participants will get the chance to work out with celebrity fitness trainer Kim Lyons (from The Biggest Loser, The Dr. Oz Show, and The Dr. Phil Weight Loss Challenge), Gunter Schlierkamp (winner of Mr. Universe) and the undefeated UFC heavy-weight contender Daniel Cormier at Chukchansi Park in Fresno, CA!
This power trio is teaming up with Automatic Body by Nutrié to guide you through a fun and fat blasting workout! To get your sweat on, here's what you need to bring:
· Running shoes
· Water or a can of Energé
· A donation for The Ronald McDonald House
This is a great opportunity to support an important cause and get the best workout of your life with the Automatic Body fitness pros! You won't want to miss this!
Meet the Automatic Body Celebrity Fitness Team
Kim Lyons: With over ten years of experience as a personal trainer, Kim Lyons – former trainer on NBC's hit show, The Biggest Loser and Dr Phil's Ultimate Weight Loss Challenge – has quickly become an icon in the health and fitness arena. Armed with a positive attitude and a winning smile, she has inspired a nation to achieve their goals of living a happy, healthy lifestyle. Kim is the co-creator of the Automatic Body app notification system and nutritional program.
Gunter Schlierkamp: When Gunter was 12 living in Germany, he saw Arnold Schwarzenegger in the film, "Conan The Barbarian". He was amazed to see how a person could sculpt his body through weight training and at age 16, Gunter finally got the opportunity to start training at a gym for the first time and after two years of training, he won his first competition. In November 1993, Gunter won the heavyweight division at the World Championships, which earned him the "Mr. Universe" title and launched his professional career. In December 1996, Gunter moved to the United States and began his life in America.
Daniel Cormier: Cormier began his professional MMA career on September 25, 2009, defeating Gary Frazier. He is undoubtedly one of the best wrestlers in the MMA, if not the best. However, he is also highly athletic, and has developed into a smart and adept striker. Cormier trains at the American Kickboxing Academy (AKA) in San Jose, California, and fights for the Zuffa-owned Ultimate Fighting Championship (UFC) organization.
About Ronald McDonald House
The mission of Ronald McDonald House Charities (RMHC) is to create, find and support programs that directly improve the health and well being of children.
Guiding in this mission are these core values:

Focusing on the critical needs of children.
Celebrating the diversity of the programs we offer and the people who make them possible.
Staying true to our heritage of 38 years of responsible stewardship.
Operating with accountability and transparency.
Ronald McDonald House believes that when you change a child's life, you change a family's, which can change a community, and ultimately the world.
Why Kim Lyons and Gunter Schlierkamp choose Ronald McDonald House:
"Gunter and I feel strongly in the importance and understanding that family comes first. The Ronald McDonald House is amazing in not only supporting the medical needs of the children, but also helping the family so they are able to be by their child's side. It is an amazing charity that we are proud to support! "
—Kim Lyons