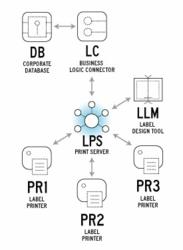 Label Versioning adds control and traceability of label changes.
Portsmouth, NH (PRWEB) May 23, 2013
Loftware, Inc., the global leader in enterprise labeling, is pleased to announce the release of Loftware Print Server (LPS) version 10.1 and Loftware Label Manager (LLM) version 10.1.
This release adds several new features such as new Label Versioning that afford customers a new level of control and traceability of label changes. Label Versioning enables customers to both view and print different label versions and promote labels from non-production to production environments all while logging the essential information about label changes. Other features specifically introduced, based on customer feedback, include the ability to embed images in label templates, expanded SMTP, and ease-of-use enhancements.
"This release underscores Loftware's commitment to continually enhance our enterprise labeling solutions as we help our customers address evolving business needs. We are excited to share this new version of LPS and LLM with our users," said Scott Johnson, Loftware's Director of Product Management.
With over 5,000 global customers worldwide, across +25 industries, Loftware is leading the way in developing innovative enterprise labeling solutions for the supply chain. This release is available at no charge to all customers with a current annual software support and maintenance agreement.
To learn more about LPS 10.1 and LLM 10.1, please visit http://www.loftware.com.
About Loftware
Loftware, Inc. is the global market leader in Enterprise Labeling Solutions with more than 5,000 customers in over 100 countries. Offering the industry's most comprehensive labeling solution, Loftware's enterprise software integrates SAP®, Oracle® and other enterprise applications to produce mission-critical barcode labels, documents, and RFID Smart tags across the supply chain. Loftware's design, native print, and built-in business rules functionality drives topline revenue, increases customer satisfaction, and maximizes supply chain efficiency for customers. With over 25 years of industry leadership, Loftware's enterprise labeling solutions and best practices enable leading companies to meet their customer-specific and regulatory requirements with unprecedented speed and agility.