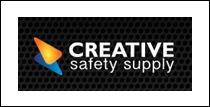 "Whoever wins the floor tape will have the option of choosing any in-stock color and width," said the spokesperson
Beaverton, OR (PRWEB) May 23, 2013
Creative Safety Supply, a business organization that specializes in the production and distribution of industrial safety products, is using its online presence to giveaway several tremendous prizes, including an industrial label maker and floor marking tape.
Known for providing consumers a wide variety of floor signs, 6S safety tape, pipe label and other heavy duty labels, Creative Safety Supply is offering the opportunity for lucky individuals to win a LabelTac 4 Industrial Label Printer, a $250 gift certificate to creativesafetysupply.com or a roll of SafetyTac Floor Marking Tape.
The contestants actually have until June 2, to enter the contest. "The industrial label printer we are giving away has a retail price of nearly $800," said a spokesperson. "And SafetyTac floor tape can cost up to $185 a roll."
A thermal transfer printer, the LabelTac 4 enables users to create custom, high-quality industrial signs and labels from half an inch to four inches wide and has built-in Ethernet. Additionally, the label maker has a 300 dpi print head and includes pre-made templates and symbols. "Whoever wins the floor tape will have the option of choosing any in-stock color and width," said the spokesperson.
Anyone who wishes to enter the contest can do so by visiting CreativeSafetySupply.com/content/contest-rules-2013/ or LabelTac.com/content/contest-rules-2013/ and completing the online entry forms. Additionally, the contest can be entered via the company's Facebook page—http://www.facebook.com/creativesafetysupply. There is also an offline entry option available.
For a full listing of contest rules, visit http://www.creativesafetysupply.com/content/contest-printer.
Creative Safety Supply continues to expand its industrial supply product line and services to meet emerging customer needs. We carry the best floor marking products in the industry, along with the latest 5S, 6S, visual workplace, lean manufacturing and ergonomic products to make your company operate as smoothly as possible. Our commitment to performance drives our business decisions every day, and we are committed to working toward solid, long-term relationships with our customers. For more information, visit http://www.creativesafetysupply.com/.