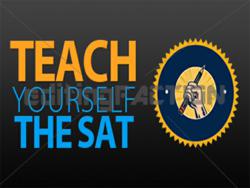 New York, New York (PRWEB) May 23, 2013
Anthony-James Green, known as New York's Best SAT Tutor, and founder of the Teach Yourself the SAT program, has never been shy about the results of his work. His program, a self-study SAT module accessible from any internet-connected device, has an average score improvement of over 380 points - higher than any option in the industry. Now, Green is offering a 14-day trial of his SAT program for only $37.97 to encourage parents to try his program over the summer.
Parents and students interested in learning more about Green's program can do so here:
http://www.TeachYourselfTheSAT.com
"This program is going to change the entire SAT prep industry," says Green. "Formerly, parents only had incredibly limited, incredibly expensive options when it came to SAT prep. They could pay thousands of dollars for a tutor, or $1,000+ for an SAT class - and historically, these options have had extremely lackluster results. I'm offering a program that costs less than $400, has better results than any other option in the field, and is easier to use, too. My only mission now is to get it in as many hands as possible, and that's why I'm switching to a trial option."
Green, who charges $500/hour for his services, is no stranger to high-priced SAT prep. Green started his career teaching SAT classes for a large firm, then branched out on his own - first by starting his own SAT tutoring company (since sold) and eventually focusing on his own practice. Since he branched out on his own, Green has tutored over 330 students 1-on-1, with an average score increase of over 400 points - a number which eclipses the results of any other option available to parents. But Green is booked 18 months in advance, and after his availability vanished, he wanted a way to share his methodologies to more students at a lower price point.
"I'm a good teacher, but I don't get such huge results because I'm amazing at fractions," says Green of his program. "I get the results that I do because of my system. I've been updating and perfecting my SAT system for years - both the methods I teach and the order in which I teach them. The reason my students get such high scores is because I've developed a repeatable, easy-to-follow program. That program is the exact program I'm offering through Teach Yourself the SAT, and so far, everyone who tries it is revolutionizing their college prospects."
Formerly only available at an upfront payment of $397.97, Green's system is now available for a 14-day payment of only $37.97, which includes all necessary texts via 2-day shipping and full access to both his programs (purchase comes with a 30-day crash course and a 60-day program for long term studying. If parents like the program and they're seeing results, they'll be billed an additional $360 after 14 days. If not, they can cancel by sending an email or hitting a button within the system - no questions asked.
"Summer is the perfect time for SAT prep. Students don't have school to worry about, and hence they have months of uninterrupted time to focus on this process and get it out of the way. Because my program is available online, and doesn't require set scheduling, students can use it from anywhere, on any schedule, regardless of whether they're at home, at camp, or traveling. I encourage parents to try the program out now, rather than waiting until the crush of the Junior and Senior school year comes around."
Green is also the author of the wildly popular Test Prep for Parents, a short, concise guide on the action steps parents need to take to help their children with the SAT process. Parents can find a free copy of the book here:
http://www.teachyourselfthesat.com/sat-prep-book/
Additionally, Green is creator of Vivid Vocab, the interactive SAT vocabulary software which he recently released for free to the public, and which is available through the following URL:
Green lives between New York and California, where he tutors students full time when he's not working on his Teach Yourself the SAT software.