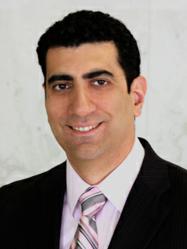 My patients' care comes first. As a physician, my work is dedicated to their well-being.
Beverly Hills, CA (PRWEB) May 24, 2013
Siamak Tabib, MD, a Beverly Hills gastroenterologist, has been recognized as a Patients' Choice Award recipient due to his commitment to and commendable work in patient care. Given to a select number of America's favorite doctors, Dr. Tabib was commended for his exemplary work and the difference he is making in the lives of his patients.
"My patients' care comes first," Dr. Tabib said. "As a physician, my work is dedicated to their well-being."
Doctors receive positive ratings each year from thousands of patients across the U.S. Patients provide general opinions and rate various components of care, such as bedside manner, doctor-patient face time, degree of follow-up, and the courtesy of office staff. As the honor roll of America's favorite doctors, this honor is bestowed on doctors by their own patients. In 2013 alone, more than 200,000 patients across America provided reviews and feedback regarding their personal care and experiences with their doctors.
"I'm incredibly honored to receive this great award," said Dr. Tabib. "Being recognized for my service to my patients is a true sign of a job well done."
Siamak Tabib, MD is a gastroenterologist at La Peer Health Systems in Beverly Hills. He is double board-certified by the American Board of Internal Medicine and the American Board of Gastroenterology & Hepatology. He specializes in conditions of the digestive tract, which includes the esophagus, stomach, small and large intestines, liver, gallbladder, and pancreas. In addition to his work at La Peer Health Systems in Beverly Hills, his private practice strives to maintain health primarily through disease prevention and, when necessary, to intervene with appropriate state-of-the-art treatment methods.
La Peer Health Systems is an outpatient surgery center in Beverly Hills, founded by doctors and focused on providing excellent patient care alongside the most cutting-edge medical treatments available. With 50 world-renowned physicians in 14 specialties, comprehensive medical treatment is offered that takes patients from consultation to diagnosis, treatment, surgery, and ultimately aftercare. The 14 medical departments include orthopedics & sports medicine, gastroenterology, head & neck surgery, colorectal & general surgery, podiatry, ophthalmology, pain management, plastics & reconstructive surgery, gynecology, spine surgery, interventional cardiology, bariatric surgery, thoracic surgery, and anesthesiology. Unlike large hospitals, La Peer's unique structure offers extremely personal care in a safe and controlled environment.
To learn more about La Peer Health Systems, visit http://www.lapeerhealth.com.