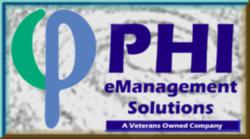 When disaster strikes, our customers may depend on our kits to save their lives.
Newmarket, NH (PRWEB) May 23, 2013
Ralph Huber, President of PHI Management Solutions announced that all of their emergency management products and emergency survival kits would be on sale through Father's Day.
This announcement was made at the quarterly executive board meeting on May 22nd.
Huber opened the meeting with a moment of silence for the Oklahoma tornado victims and used the opportunity to remind all of the executives that the quality of their emergency kits is paramount. "When disaster strikes," he said, "Our customers may depend on our kits to save their lives."
James Moody, the Vice President of the Emergency Division, reviewed the latest products and several recent upgrades. Most important he said was the introduction of kits with enhanced water purification capabilities. People can survive for days with limited food but they have to have water. Most of our kits have the capacity to purify eight gallons of water and our enhanced kits can purify thirty gallons. Moody also stressed that the same standards of excellence apply to all of PHI's kits to include their popular line of Zombie themed Survival Kits. The bottom line he said is that every kit we produce has what a person needs in the event of a catastrophe.
The complete line of PHI's Emergency Kits can be found on their website or on Amazon.com. Most kits ship within 24 hours of being ordered. The PHI team is composed primarily of military veterans with over 90 years of combined service. Each member of the team has proven themselves through combat command and has extensive experience in disaster response and planning. Team members have commanded response forces and/or participated in several disaster responses to include the 2005 crash of a civilian airliner in Afghanistan, Hurricane Katrina 2005, Southwest New Hampshire Flooding in 2005, New Hampshire Statewide flooding in 2006, Epsom, NH tornado response in 2007, the 2008 New England Ice Storm, 2009 Anthrax Response in Durham, NH, the 2010 NH Wind Storm, Hurricane Irene in 2011, the October 2011 New England Snow Storm and Super Storm Sandy in October 2012. In addition, they have energy partners in New Hampshire, Massachusetts, New Jersey and New York.