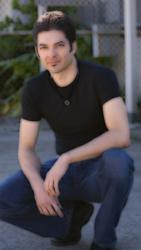 A little bit of knowledge on flirting tips for guys allows a man to immediately change his first impression and replace it with one that screams self-confidence.
San Mateo, CA (PRWEB) May 28, 2013
The majority of flirting is done through body language, which is why it is important for any single guy on the dating scene to have a thorough understanding of how to flirt by how he moves, sits, and stands, says Dating Expert Carlos Xuma in his new report on flirting tips for guys.
"A guy who knows the secrets of body language can ooze self-confidence, physical prowess and general attractiveness within thirty seconds of walking into a room," Xuma says in his report. "It all boils down to how he holds himself — with confident posture or stooped insecure shoulders? How he moves his body — fast and jerky or slow and languid? How he makes eye contact — jittering and fleeting or just long enough to send a message? All of this counts."
And all of these things convey within seconds, Xuma says, but most guys don't have a clue and end up walking into a room with their body language screaming that they are crabby, had a bad day, think they are unattractive, and are not in the mood for fun but would rather go home and feel sorry for themselves.
"Most men would be shocked at the signals they are sending through their body language," Xuma said in his report on guys' flirting tips. "They are basically saying that they give up before they even open their mouths. It happens that fast and that easily."
The good news, says Xuma, is that with a little bit of knowledge and information on flirting tips for guys, any guy can immediately change that first impression and replace it with one that screams self-confidence.
"It can be done in an instant," he says. "Guys have shown how they can walk into the exact same party and get completely different results with women based on how they carry themselves."
It's unbelievably easy to flip an image on its head, Xuma says - hence his report on effective flirting tips for guys.
"It might be the best secret out there in the dating world," Xuma says. "The difference between walking into a room insecure and needy versus walking into that same room oozing self confidence and a playful, nonchalant attitude. It's all about the attitude and what that conveys.
Xuma's new report promises to show guys just how to adopt that attitude and make it a part of them.
Carlos Xuma has been a dating expert and attraction adviser for more than 10 years. Xuma is the author of numerous articles and books, including The Bad Boy Formula, Secrets of the Alpha Male, and the Girlfriend Training Program. Xuma has appeared on ABC and CBS television and Playboy radio. Xuma has spent years teaching hundreds of men important dating skills and flirting tips for guys, such as how to flirt with girls, how to seduce a woman, seduction tips, how to get a girlfriend, and how to gain confidence with women. Learn more at his website, http://www.carlosxuma.com.