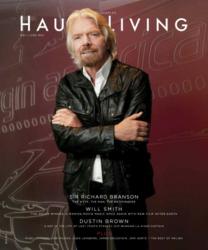 Los Angeles, CA (PRWEB) May 22, 2013
This month Haute Living sat down with Sir Richard Branson, the man behind the Virgin Group, which includes behemoths such as Virgin Music, Virgin Mobile and Virgin Air. Branson, a larger-than-life personality who founded his first business at just 16, opens up about the dramatic event that brought his family together with Academy Award-winning actress Kate Winslet.
While vacationing on Branson's private Necker Island, Winslet bonded with the mogul's family after a fire erupted, including Branson's nephew Ned Rocknroll. However, Branson downplays his role as matchmaker. "It was less me and more of the great fire that swept through our house that got the two of them together," Branson told Haute Living. "Through all the trauma of that, the fire and Kate rescuing my mother, Ned and Kate somehow fell madly in love and got married and are incredibly happy together. It's a whirlwind romance that took place on a windswept, fiery day. It all worked out pretty well in the end, I'd say."
At 62, Branson is busier than ever, with new domestic routes in the United States and some decidedly non-domestic routes. "We'll be taking people into space at the end of this year," Branson said. "We're the only company in the world that's doing this, so from a brand point of view, it will be a spectacular move for Virgin and will have a wonderful halo effect on all the other Virgin companies."
Also in this issue, Will Smith opens up about working with his son Jaden on the upcoming film After Earth. Smith, who previously worked with Jaden in The Pursuit of Happyness, says that the characters in After Earth mirrored his young son's aspirations to follow in his blockbuster footsteps. "It was funny because my character is this huge general and a great warrior, and his son is trying to follow in his footsteps so it was similar in that sense," Smith told Haute Living. "I think because we got to talk about our characters, Cypher and Kitai, we were really talking about Will and Jaden."
About HauteLiving.com
Haute Living is the premier go-to for updates on all things Haute around the world. With pages dedicated to cosmopolitan cities around the world, our editors keep readers in the loop on daily news, exclusive events, exciting openings and product releases. The Haute Living group also extends to niche luxury markets, with news about everything from yachts to interior design. The acclaimed market site Haute Time leads the group, providing luxury watch aficionados with product previews, exclusive interviews, unveilings, and more.
About the Haute Living Media Group
Haute Living Magazine is a national luxury lifestyle magazine published in four markets—New York, Miami, Los Angeles, and San Francisco. Haute Living Magazine features the top entrepreneurs, businesspeople, and notables in each market. Haute Living Magazine also highlights the best in luxury consumer goods, culinary hot spots and events. Haute Living recently redesigned its website and re-launched its Haute Time and Haute 100 websites for state-of-the-art experiences.