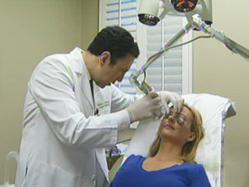 Los Angeles, California (PRWEB) May 25, 2013
According to an article in the June 2013 issue of Vogue Magazine titled "Hooked on a Feeling," nearly 30 million Americans tan indoors each year and an unknown number visit the beach to tan despite knowing the health risks. New research suggests that UV rays may have a relaxing, seductive and even addictive effect on the brains of some tanners (Go to goo.gl/hdwnz).
"There is no data included in the article so I can't say that I fully support this contention from a scientific perspective," says Dr. Simon Ourian, Medical Director of Epione Beverly Hills. "It's not as though people don't regularly participate in activities that they know aren't good for them, especially when the potential damage is far off as it is with tanning. Still, I have to say that I'm flabbergasted when I see people using tanning oils in this day and age. I'm surprised these products are still available for purchase."
As reported in the article, a study done in 2011 found that UV rays have an opiate-like effect on the reward centers of the brain. In an earlier study 50% of the frequent tanners given naltrexone, a substance that blocks drug-induced euphoria, prior to tanning experienced withdrawal-like symptoms.
"Whether or not tanning is addictive," says Dr. Ourian, "I can't argue with the suggestions that tanners use alternate non-UV methods such as spray tans and other sunless tanning products if they want to darken their skin."
Dr. Ourian has been a pioneer in laser technology and non-invasive aesthetic procedures including Restylane, Juvéderm, Radiesse and Sculptra. These treatments are used for the correction or reversal of a variety of conditions such as acne, acne scars, skin discoloration, wrinkles, stretch marks, varicose veins, cellulite, and others. More information about addiction to UV rays can be found on Epione's website.