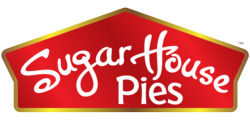 With no disrespect to Grandma', these new fruit filled pastries look and taste a great deal like an old classic.
Salt Lake City, UT (PRWEB) May 23, 2013
What if a freezer pies supplier could create a high quality dessert just like Grandmother used to make?
SugarHouse Pies has seen a tremendous response to their introduction of new hand-tied lattice pastries into the market. These are not typical frozen desserts, as each of them is given an attractive lattice presentation that is uncommon for frozen fruit pies. There are many unique flavors in this line of lattice pastries, and consumers have responded well to having multiple flavors inside the same pie. The company has gone to aggressive lengths to ensure their presentation and delivery of an old-fashioned pastry with a rich, flaky crust is the standard.
What flavors are offered in this new line of fruit pastries?
When it comes to choices, the company has pulled out all the stops by providing anywhere from two to four different fruit flavors in a single pie. One extremely noteworthy offering is their Four Seasons Lattice, which, as frozen desserts go, is among the most intriguing and delectable offerings in this new line. This is truly a unique offering from a freezer pies supplier as the premise is ambitious, involving hard work and attention to detail. Beyond this impressive new offering is the Red, White, and Blue Lattice, which features three wholesome fruit flavors and is not typical of frozen fruit pies.
How do consumers benefit from these new varieties?
For most families, the premise of having one pastry that can potentially satisfy every unique taste is truly helpful. This is especially true for those who are having family gatherings, but don't want to go to the expense of purchasing several frozen fruit pies just to compliment the demands of one or two guests. Again, as a freezer pies supplier, the company has expressed a consistent need to provide consumers with what they want. This means creating frozen desserts that provide as much value in one box as possible. Beyond that, the quality of the hand-tied lattice and its rich, flaky pastry crust is another staple of the company's goal to raise the bar for quality. "My team and I are very passionate about the pies that we produce," said Mark 'Par' Grandinetti, President of SugarHouse Pies, "and not only do we want to create packaging that is gorgeous enough to stop your shopping cart; we want the pie inside the carton to be as delicious as it looks on the picture outside." For more information, please visit: http://www.sugarhousepies.com