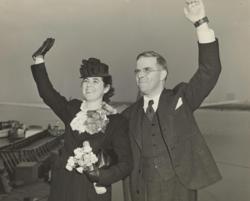 Brockton, MA (PRWEB) May 22, 2013
Fourteen-year-old Artemis Joukowsky had no idea the heroic role his family played during World War II until he began to interview his grandparents, Martha and Waitstill Sharp, for a homework assignment on moral courage. Flash forward a few decades, and the documentary based on their humble recounting of the story, Two Who Dared: The Sharps' War, a film that was ten years in the making, is now being released through a grassroots effort at churches, synagogues and theaters across the country and worldwide.
TWO WHO DARED is the previously untold story of Waitstill and Martha Sharp, a Unitarian minister and his wife, who left their young children in Wellesley, Massachusetts to help save imperiled refugees being persecuted in Europe, just days prior to the Nazi invasion of Czechoslovakia.
Who were these American heroes? What drove their willingness to put the wellbeing of strangers over that of themselves and their family? What would you dare to do in order to help just one other person?
Find out more by attending a screening near you:
Don't miss the next screening in Brockton, MA, when the Christ Congregational Church, United Church of Christ, will be showing the film at the Fellowship Hall, located at 1350 Pleasant Street, Brockton, MA 02301. On Friday, May 24th, at 6 pm, the Brockton Christ Congregational Church will show the film as a part of their "Dinner and a Movie" series. For more information, please contact: 508-586-3022.
In February 1939, Waitstill Sharp, a young Unitarian minister from Boston, and his wife Martha left for Czechoslovakia on a refugee mission. The Unitarian church was already a step in front of the Nazis, having set up a secretive network of volunteers and agencies to secure the safe passage of both Jews and non-Jews out of Prague. The task became even more difficult when on March 15, 1939 the Nazis entered Prague. For the next five months, the Sharps continued their work undaunted by the presence of the Gestapo and the possibility that they would be arrested or killed. In August 1939, the couple left Prague and headed back to the United States, barely escaping arrest.
Only 10 months later, the Sharps returned to Europe on their second mission, setting up a refugee office in Lisbon, Portugal. Eventually, they made their way to Nazi-controlled France, to find ways to help refugees escape. In an elaborate plan, the Sharps helped a renowned German-Jewish author, Lion Feuchtwanger, and his wife escape to New York via Spain. Finally, in December 1940, after rescuing a plethora of people from the horrors of Nazi persecution, Waitstill and Martha Sharp returned to the United States. Following the war, Martha Sharp remained very active in efforts to assist the Jews around the world and the establishment of Israel.
Artemis Joukowsky, Director and grandson of the Sharps, is proud to present this remarkable story of courage, documenting the lives of Reverend Waitstill Sharp and his wife Martha. Told from their personal point of view, the film draws on their recorded interviews, letters and unpublished memoirs, and also includes interviews with children rescued and noted scholars.
TWO WHO DARED: THE SHARPS' WAR is a project of No Limits Media, Inc., a 501 (c) (3) organization. Founded in 2001, No Limits Media (NLM) is a multimedia development and production company dedicated to informing and entertaining the estimated 20% of the U.S. population that directly lives with a disability.
For more information, please visit the website:
http://www.twowhodared.com