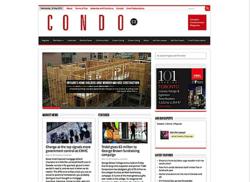 "No condo community in Ontario is currently smoke free. All it would take is a majority vote by unit holders."
Toronto, Canada (PRWEB) May 22, 2013
In this week's Condo.ca, the condominium magazine reports on unprecedented changes in the condominium industry. Ontario's building industry is pushing for changes to the Ontario Building Code so that homebuilders can construct taller buildings made of wood. In another story, condominium owners in New York made history by voting to ban smoking. Condo.ca also reports on new signs of a housing recovery in Toronto.
"Six-Story wooden residential buildings coming to Toronto?"
Several builders groups that represent the province's residential construction industry commissioned a report on the subject by urban planner and professor Paul Bedford. He found that there is nothing to prevent the use of wood in mid-rise construction, from a safety perspective, and much to recommend it. Chief among the benefits would be the reduced cost: wood is simply cheaper than concrete. This would translate into more affordable housing for the city of Toronto, plus a greater intensification of land use, something that the city has long been proposing. Read more at . . .
"Could your condo be next to go smoke free?"
A New York condominium made history when its residents voted to ban smoking not only in the common elements but also in the building's private units. It is the largest condominium ever to do so. No condominium in Ontario has done so yet, but it could happen. The laws are already in place. All it would take would be a majority vote by unit holders in a condo community, and the building would become smoke free. You would not be able to smoke in the privacy of your own home, and you could be forced to sell and move out if you defied the majority will. Read more…
"More interest in home renovations another sign of housing recovery"
One of the signs that the US housing market is recovering is the improved balance sheet at Home Depot. The huge Atlanta-based home renovation retailer posted a higher than expected first quarter profit this week. Sales to home renovation professionals and contractors were up, and so were sales to the core business, the do-it-yourselfer. Meanwhile, in Canada almost half of Canadians surveyed by Scotiabank said that they planned to do some renovating at home this spring. The rooms most likely to get the reno treatment? Kitchens and bathrooms, of course. Read more …
About Condo.ca
Condoa.ca is all about living and lifestyle. Thousands of subscribers and readers rely on Condo.ca's in-depth coverage of the condominium scene and urban living each week. Condo.ca is committed to following and discussing the trends: urban lifestyle, design and neighborhoods, with a special focus on inspiration. Our daily news beats include:

Market News: daily news with a focus on real estate, finance and the marketplace.
Green Living: environment-friendly stories, latest technologies, and tips and how tos.
Urban Living: features on the downtown scene.
Decor and Design: interior design tips, how-tos and features
Communities and Condominiums: our coverage of new communities coming into the market.
Great Toronto Scene: special coverage of the GTA scene.
Ask the Expert: you ask your questions, related to condos, we try to find an expert to answer you.
Ask the Lawyer: you ask your legal-oriented questions, we try to find a lawyer to answer.
Ask the Designer: Stella Salvadore, interior designer, answers your design questions (please be sure to post pictures!)
Condo.ca is a publication of Zines Online and Tridel Corp, a service of Persona Corp.