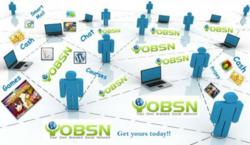 If you are not a brand, you are a commodity.

Philip Kotler
Silicon Valley, CA (PRWEB) May 23, 2013
Smart Media's "Your Own Branded Social Network" or YOBSN is a Social Network engine that offers a first of its kind opportunity to not only brand a company or individual but instantly connect them to millions of people around the world. YOBSN owners can brand and customize the portal by which their clients and friends access the social network creating top-of-mind awareness for their cause, product or service. Smart Media provides the important social media content and features and even the incentives for users to want to return and use the social network and YOBSN owners can create a second layer of content to their system by offering even more to their free users.
What makes YOBSN unique over other social networks is that they share their revenue not only with the YOBSN owner but also with the YOBSN owners free users. Like nearly all other social networks Smart Media earns the majority of its income from advertisers and they share this revenue with the people responsible for creating it. It is definitely an idea whose time has come. Users can enter contests daily to win cash and prizes. They can play free games for real cash and prizes and also earn points whenever they click on banner ads that interest them.
Users can earn points for referring others and these points can be spent in an online rewards store for digital or physical products. One might compare it to a frequent flyer program or rewards card program with one major exception being that users don't spend any money to earn them. Most rewards programs are simply discount programs where the discount may or may not ever be used. When someone uses a credit card to earn frequent flyer miles, for example, a small portion of the money that the person spent is used to create the free miles. So these miles may or may not be used in the future, and if enough of them are accumulated then
the person would have a need to use them. In essence the miles are not free the person is actually paying something for them.
The word "free" is used a lot in business but in many cases it is not actually free. For example, "Buy 2 get 1 free" sounds really good, but the truth is much less appealing to consumers when the truth is it is actually "Buy 3 and get 33%" off each item. 33% off of one item is not very appealing to consumers but add "If you buy 3" makes it even less appealing. So instead say "Buy 2 get 1 free" and consumers respond and that is because they think they are getting something for free when actually they are only getting a small discount.
However, with YOBSN it is actually free and the users never spend money to earn the rewards. The money for the rewards comes from advertising revenue generated by Smart Media. The YOBSN owner is not charged for the rewards that their free users earn. In fact, they actually earn money when their free users earn rewards. This money also comes from profits earned by Smart Media not by the YOBSN owner.
Normally a website owner creates their website and then finds advertisers to advertise on that site and then drives traffic to the site in an effort to generate revenue. They may also offer their own products or services on the site. With YOBSN all of this is done for the owner. They pay less for their own YOBSN than it would cost to make and host their own website and there is no need for them to find advertisers because they are already there built into the system. There is no need for them to continually drive traffic to the site to create more income they simply refer people to it initially and then Smart Media provides what is necessary to keep them coming back creating the same kind of residual income that other social networks earn only in this case the YOBSN owner earns from it as well.
YOBSN also has a viral growth engine built into it. When an owner refers people to the system those people are also rewarded for sharing it with people that they know unlike many other social networks. And this means that the number of users on an owners portal can grow exponentially and endlessly over time.
About Smart Media
Smart Media is a world-class technology company that has developed proprietary technology called YOBSN which is set to revolutionize the Internet world. YOBSN works on any computer or browser and no technical experience is required. Users have access to the YOBSN Social Community which includes the latest Communication features, Social and Educational Games, Educational Video Libraries, Prizes, Giveaways, a Top Sites window to the Internet that puts the very best of the Internet at the users fingertips and the world's only Reward Points System where users earn points for simply using the Internet that they can redeem in the YOBSN online rewards store.
To learn more about Smart Media visit their website at: http://smartmediacommunications.com
To learn more about the YOBSN Dynamic Bar go to: http://smartmediaplay.com