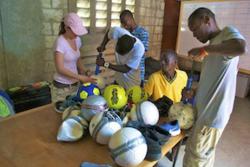 My visit to Haiti was a life changing experience...
Clifton, Virginia (PRWEB) May 23, 2013
The Union Soccer Club in Citi Soleil, Port – au – Prince, Haiti now has new soccer equipment for its 7 youth soccer teams thanks to the generous support of Clifton Children's Academy and its students. Support from Clifton Children's Academy included a two-month long equipment drive that began earlier this year, led by Assistant Director and Lead Teacher Vanessa Cappell, which exceeded the wishes of the youth program in Haiti. The soccer equipment collected was part of a collaborative and collective donation by businesses and individuals in Florida and Virginia that resulted in 7 duffle bags ranging from 80 – 100 lbs each. The collaboration collected a variety of soccer equipment that included cleats, soccer balls, inflating pumps, soccer socks, First Aid kits, whistles, classroom supplies and instructional games. Ms. Cappell, as representative of the Clifton Children's Academy, personally delivered the equipment to Haiti as part of a March 2013 volunteer trip hosted by Bochika, a 501 (c)(3) charity organization.
"My visit to Haiti was a life changing experience – at times emotional and heart wrenching, but one that I won't soon forget. The people of Haiti are friendly, hard working, and eager for guidance on how to create a better society for their youth. I came back home wanting to do more to help those in need. Together, we were able to bring the children a sense of hope and the people we met immediately felt the impact of our support and presence within their community. It truly humbled me and changed my perspective of the world and humanity. I am proud to be associated with Clifton Children's Academy, its friends and families, and Bochika," says Vanessa.
The Union Soccer Club is part of SAKALA, a youth education center that blends sports, agriculture, community building, and peace education in an effort to provide safe environments and empowerment for youth, women, and other community members. Soccer is the biggest sport in Haiti and is instrumental in SAKALA's objective to share the message of peace throughout the community. There are currently six boy's teams, ages ranging from 10 to 18, and 1 newly established girl's team. SAKALA currently works with and educates 250 boys and girls from the surrounding Citi Soleil community, a marginalized shantytown, often referred to as the largest slum in Port – au – Prince, Haiti. The community is also referred to as a Red Zone and gang infested slum. But SAKALA Executive Director Daniel Tillias and his team believe Citi Soleil can be a place of peace and hope of a brighter future, especially for the community's youngest residents through the help of programs that inspire peace.
The Bochika volunteer group also participated in harvesting SAKALA's urban garden, teaching English and leadership workshops for youth, and community exchange events. The group also inaugurated a small youth center of 25 children lead by Tony, an inspiring youth community leader and graduate of the SAKALA soccer program. Tony now directs a new youth center championing a message of peace, strength, and courage among the youth of Citi Soleil.
Bochika is a US sponsor of the SAKALA program and directed the supply drive and volunteer trip. To view photos of the volunteer trip please visit Bochika's facebook page. Find out how you can help strengthen impoverished communities in your hemisphere by contacting Bochika at 786.529.2010 or by email.
The Clifton Children's Academy is located at 14315 Compton Rd, Centreville, VA 20121. "Clifton Children's Academy programs provide experiences in music, drama, creative movement, cooking, water and sand play, sensory development, math, science, language and reading readiness, phonics, and large and small muscle development. While providing all of these enriching experiences, we never forget that a positive self-concept is what will help prepare your child for a successful and happy future." Clifton Children's Academy