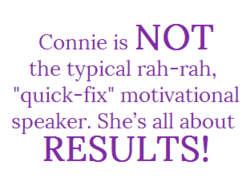 We have had Connie back 5 times in a row–because she always has standing room only sessions with standing ovations at the end. Our dental professionals LOVE you! — American Dental Association
Novi, MI (PRWEB) May 23, 2013
Motivational Speaker Connie Podesta kept hundreds of dental care professionals riveted to their seats in her standout keynote address, Life Would Be Easy if It Weren't For Other People at the April Michigan Dental Association's Annual Session. Dental professionals from across the state gathered for four days of power-networking, advanced continuing education and innovation. To help them do just that, they invited previous presenter Connie Podesta back for a second time to wow the crowd with energy, emotion and the insights they needed to take their practices to the next level.
"This is the second time we have invited Connie Podesta to speak at our event. We brought her back by popular demand—and our attendees loved her! Connie is not just a great speaker--she is high energy and enthusiastic. Plus, her entertaining style helps her tackle even the toughest issues in our industry with sensitivity, directness, and confidence. The highest compliment I can give Connie is she was on late in the day--on a Friday--and still kept hundreds of people riveted in their seats right to the very end. That says a lot!" shared, Ms. Bernie Droste, CMP, Manager, Continuing Education, Michigan Dental Association
"I was thrilled to be invited back to speak with the Michigan Dental Association group both on their main stage, and for a special two-hour workshop. What an honor- and what a terrific audience. What I strive to do for EVERY dental audience is to blend the reality of professional office practices with the sensitivity, humor and insight needed to work with patients and colleagues. That way, they can better attract new patients, increase sales and service opportunities, improve office relations, increase productivity, successfully manage change and handle the daily challenges that face them every day with confidence. It's can be an extremely stressful business, but with the right tools, mindsets, empowered ideas and strategies, people can move beyond the stress to find more success and balance."
To juggle both productivity with patient and staff relationships, dental teams must:

Have the ability to recognize and effectively respond to a wide spectrum of personality types
Recognize the talents, skills and diversity they bring to the business each day
Move beyond old thinking, old habits and embrace innovation
Learn to find common ground, consensus and compassion within their practice
Connie Podesta is not an average dental speaker, and as a motivational speaker, audiences won't find any 'rah-rah' in her delivery style. What they will find is a humor that lifts people's spirits and helps them to learn in a whole new way as well as a passion for helping people adapt to change, communicate on a higher level and adopt long-term momentum-building strategies and eye-opening insights.
"I loved the opportunity to sit in on Connie's workshop session, and I can tell you that it was mesmerizing to see her ability to touch so many people so deeply in such a short period of time. The range of emotion from tears to joy, to everything in between. She had the audience truly taking a good long look at themselves, their lives, their passions and their purpose and helped them to look at it all from entirely new perspectives. That's magical," shared business and life speaker Jonathan Edison.
For more information on Podesta's schedule and availability or to learn more about her captivating contact her team today at 972-596-5501, via email at info(at)conniepodesta(dot)com. You can visit her website online at http://www.conniepodesta.com.
Connie Podesta is a worldwide Motivational Speaker, Human Relations and Change Expert, Award-Winning Author, Comedienne, and so much more. She delivers high-impact, high-energy keynotes with humor, how-to's and momentum-sustaining solutions. Her strategies have been celebrated by industry leaders, top sales professionals, global leadership teams and more than two million audience members from around the world. She specializes in Sales, Leadership, Change and Service. If you're looking for a groundbreaking motivational speaker to make your next event extraordinary – contact Connie Podesta today.