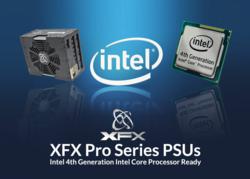 Ontario, CA (PRWEB) May 28, 2013
XFX announces the compatibility of XFX Pro Series PSUs with Intel's new 4th generation Intel Core processor, code-named "Haswell", and their ability to go into a lower power sleep state. These select power supplies have been tested to assure readiness to support the new 4th generation Intel Core processor family.
 
When an Intel Core (i3, i5, i7) processor is idle, it enters a sleep state that requires less power than when the CPU is active with a minimum current of 0.05 Amps at 95W and 65W. Since the motherboard voltage regulation modules that provide power to the CPU gets their power from the power supply's +12V rail, these sleep states can dramatically reduce the load on the power supply's +12V rail.
According to Intel's presentation at IDF, the new Haswell processors enter a sleep state called C6/C7 that can drop processor power usage as low as 0.05A. Certain legacy PSU s may become unstable at the new minimum load of 0.05 Amps and trigger the PSU's under/overvoltage protection circuit causing the PSU to shut down. This will require the user to cycle the power on their power supply using the power switch on the back of the unit.
XFX power supplies use a +12V design that allows for a minimum of 0A so they will not have an issue with the new low power sleep states allowing the CPU to enter deep sleep mode without any problems. XFX manufacturing partner Seasonic in conjunction with Intel have worked together to confirm that all XFX Pro Series PSUs listed below are compatible with Intel's new 4th generation Core processor family for new CPU upgrades to current systems and future new builds.
XFX utilizes this 0A minimum +12V Easy Rail design in nearly all of their power supplies. Starting with the XFX Pro Series Core Edition Full Wired 650W all the way up the the XFX Pro Series Black Edition Full Modular PRO1250W power supplies. Although Haswell readiness excludes the XFX Pro Series 450W and 550W power supplies, XFX is already working closely with Seasonic to develop a new 550W Gold Pro Series PSU that will be compatible later this year. So whatever the budget or power needs, if the choice is Intel's new Haswell processor with the new low power C7 sleep state, XFX is the best and most trusted PSU on the market.
Here is a list of compatible XFX Pro Series PSU s:
XFX Pro Series Core Edition Full Wired PSUs
PRO650W 80Plus Bronze (P1-650S-NLB9)
PRO750W 80Plus Bronze (P1-750S-NLB9)
PRO850W 80Plus Bronze (P1-850S-NLB9)
XFX Pro Series XXX Edition Semi-Modular PSUs
PRO650W 80Plus Bronze (P1-650X-XXB9)
PRO750W 80Plus Bronze (P1-750X-XXB9)
PRO750W 80Plus Silver (P1-750B-NLG9)
PRO850W 80Plus Bronze (P1-850X-XXB9)
PRO850W 80Plus Silver (P1-850B-NLG9)
XFX Pro Series Black Edition Full Modular PSUs
PRO750W 80Plus Gold (P1-750B-BEFX)
PRO850W 80Plus Gold (P1-850B-BEFX)
PRO1050W 80Plus Gold (P1-1050-BEFX)
PRO1250W 80Plus Gold (P1-1250-BEFX)
XFX Pro Series Black Edition Limited Full Modular PSUs
PRO1000W 80Plus Platinum (P1-1000-BELX)