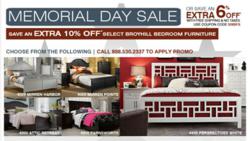 We thank Broyhill for allowing us to provide this promotion which will help our customers rest easy with a new great quality bedroom set
Golden, CO (PRWEB) May 25, 2013
BedroomFurnitureSpot.com, the leading online retail destination for quality bedroom furniture, is proud to offer phenomenal savings as part of their annual Memorial Day Sale. From now through May 28, 2013, customers can enjoy a 10% discount on select Broyhill bedroom sets. Broyhill bedroom sets on sale include the Mirren Harbor 4024, Mirren Pointe 4026, Perspectives 4449, Farnsworth 4856 and Attic Retreat 4990. Alternatively, customers can take 6% off the purchase of almost any other brand name item in the BedroomFurnitureSpot.com catalog.
"As summer rolls around, nights get shorter and warmer making it difficult to get enough good quality sleep. We thank Broyhill for allowing us to provide this promotion which will help our customers rest easy with a new great quality bedroom set," said Peter Goldstein, Vice President of Sales for BedroomFurnitureSpot.com. Mr. Goldstein also added, "By offering such a large discount on our most popular Broyhill products, our customers can enjoy high quality sleep while saving a large amount of money."
Broyhill furniture is well known for its beautiful style and durability, and Broyhill bedroom sets are some of the most popular products available for sale at BedroomFurnitureSpot.com. Customers can take advantage of discounts on beautiful collections like the Broyhill Attic Retreat 4990 Sleigh Bedroom Set. This collection is made from oak wood solids and veneers, and even includes a classic oak sleigh bed. Another excellent product available in this sale is the Broyhill Perspectives white Panel bedroom collection. This bold bedroom set combines modern design with Asian inspired art influences for a striking look that is sure to inspire many pleasant dreams.
Those who are not in the market for a Broyhill bedroom set can take advantage of Memorial Day savings on other brand name furniture. Almost everything in the BedroomFurnitureSpot.com catalog is available with a 6% discount off the final purchase price. To take advantage of the 10% Broyhill discount, customers need to call (888) 530-2337. Friendly and knowledgeable Sales Experts are standing by to assist with questions and ordering. The 6% discount can be applied directly in the online Shopping Cart. Customers need only to enter the code SIXBFS to the Coupon Code field in order to claim this discount.
About BedroomFurnitureSpot.com – BedroomFurnitureSpot.com is a division of InteriorMark, LLC, and the leading online retailer of high quality bedroom furniture. InteriorMark's family of websites offer top quality furniture for the living room, bedroom, home office, home theater and many other rooms in the home. InteriorMark, LLC is a member of the National Home Furnishing Association and is proud to be an A-rated member of the Better Business Bureau.