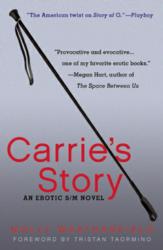 It's a modern day coming-of-age story set in a world of secrecy and sensuality.—AVN
(PRWEB) May 23, 2013
In the wake of 50 Shades, there is a growing fascination with kinky fiction. Three of the top of authors of smart, edgy fiction are teaming up with New York's Pleasure Salon to hold a reading and Q&A in response to the curiosity about this trend. Molly Weatherfield, Laura Antoniou, and DL King will read from their steamy novels, and discuss the keys to writing intelligent and sultry stories. All three authors have been published with Cleis Press, which has specialized in BDSM literature for more than thirty years.
Readers, writers, and the people who love them are all welcome. There will be a giveaway of all of the authors' latest titles, so at least five people will be "getting lucky." Fans of hot writing are in for a delightful evening at Happy Ending.
Free
An evening of Sizzling, Saucy S/M writing
May 30th, 7-9pm
Happy Ending's "Pleasure Salon" (upper level)
302 Broome St.
New York, NY 10002
Molly Weatherfield will also be holding a separate reading of her best-selling classic Carrie's Story at Bluestockings
Free
May 29, 7-9pm
Bluestockings
172 Allen St.
New York, NY 10002
D. L. King is the author of two novels, The Melinoe Project and The Art of Melinoe, and she most recently edited the anthologies Carnal Machines and The Harder She Comes. Her work can be found in The Mammoth Book of Best New Erotica, Best Women's Erotica, Best Lesbian Erotica, Girl Crazy, Frenzy, Yes, Ma'am and Yes, Sir. King lives in New York City.
Molly Weatherfield, the pen name of Pam Rosenthal, is also the author of Safe Word, the sequel to Carrie's Story. A prolific romance and erotica writer, she has penned many sexy, literate, historical novels. She lives in San Francisco.
Laura Antoniou authored the well-known Marketplace series of erotic novels. She has also edited the groundbreaking Leatherwomen anthologies, and writes scholarly work on BDSM. In 2011, Antoniou won the Lifetime Achievement Award from the National Leather Association. Her work has been translated into Spanish, German, Hebrew, Japanese and Korean. With over 20 years of experience writing, teaching, and speaking about kinky sex communities, Antoniou has sold over 600,000 books and counting. She resides in Queens, New York.