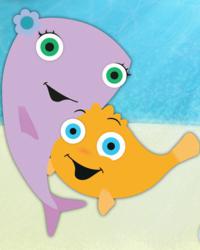 We recognized the variability of deficits among children on the autism spectrum and the lack of consistent motivation for typical toys
San Diego, CA (PRWEB) May 23, 2013
See Beneath, Inc., a San Diego 501(c)(3) nonprofit, has announced the launch of the first season of their video series Aiko & Egor for late Fall 2013. See Beneath's mission is to engage and educate children with autism by creating and providing innovative tools that foster positive change and help children reach developmental milestones.
Aiko & Egor is an educational and engaging animated video series developed for children with autism. See Beneath, Inc. was founded in 2012 by former UCSD Autism Research Program Behavioral Interventionists that saw a need for more tools to support early intervention strategies.
"Recent reports by the CDC and Autism Speaks indicate that autism affects 1 in 50 children, and that number is increasing," said Casey Hoffman, See Beneath Co-Founder. "We recognized the variability of deficits among children on the autism spectrum and the lack of consistent motivation for typical toys."
Early intervention has been proven to be very effective for children with autism. The series was developed using research-based principles of Applied Behavior Analysis (ABA) and Video Modeling. The videos teach young children on the autism spectrum developmentally appropriate goals by providing simplified animation that exaggerates social interactions and gestures.
"I popped in the DVD with Aiko & Egor and my son watched it like 5 times in a row," says one mom of a two-year old boy with risk for autism. "'Mommy turn on the fishies' is all that he kept saying! I thought the video was awesome! Thank you so much!! Let me know when you have another video."
See Beneath was also recognized by the 2013 Dell Social Innovation Challenge (DSIC) and awarded a Start Something That Matters (SSTM) Fellowship. Blake Mycoskie of TOMS started this new foundation to help reach a greater number of students who want to follow their dreams.
About See Beneath
See Beneath, Inc.'s vision is to help create a world in which all children with autism will develop to their full potential. See Beneath's founders have spent more than 7,500 hours sitting on the floor, working one-on-one, engaging and teaching children at-risk for autism under the age of three.
If you are interested in helping raise funds for the production of Aiko & Egor and the development of a mobile web application, please visit the See Beneath website or the When You Wish campaign, which runs through May 31st. The team recently submitted a research article for publication that details their UCSD pilot research study and publicly released the full pilot episode this week.