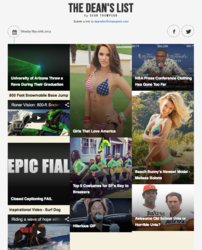 The Dean's List is the collision of sports with frat satire, humorous videos, and attractive co-eds
San Francisco, CA (PRWEB) May 23, 2013
One of the best places to be for any sporting event is the student section at a college game: the students are loud, enthusiastic, rowdy, creative and a bit obscene. Many alumni dream of being back at their alma mater and standing in the student section for the big game. With the goal of bringing the atmosphere of the student section online, Chat Sports introduces a new daily, user-driven page called The Dean's List.
"The Dean's List provides a fun, exciting and youthful extension of the Chat Sports brand in order to help familiarize the college audience with our company," said Chat Sports' Ryan Greenwald. He added, "College students sending us humorous, viral content is the driving force behind the product."
The Dean's List creates the ultimate daily webpage for fraternity guys, sorority girls and all those who are nostalgic for their college days. With this new daily feature, Chat Sports aims to bring their audience a collision of sports mixed with frat satire, humorous videos and attractive co-eds. Featured on The Dean's List is everything from how the rules of beer pong vary by geographical location, which school has the cutest cheerleaders and Gus Johnson's famous NCAA play-by-play calls.
To submit a Dean-worthy article, email links to deanslist(at)chatsports(dot)com and see if you have what it takes to make The Dean's List.
Head back to campus this summer, check out The Dean's List from Chat Sports.
About Chat Sports
In late 2012, Chat Sports exited beta and launch its next generation sports website that delivers sports fans a customized sports page based on their interests. Chat Sports curates up-to-the-minute content from local newspapers, national news sources and thousands of leading sports blogs all onto one website. By quickly delivering the very best and most relevant sports stories from thousands of potential sources, Chat Sports provides a customizable & comprehensive sports page to each user, saving them valuable time while making it simple to share content with friends and fellow fans. Get started at http://www.chatsports.com.
Press Contact:
Ryan Greenwald
ryan(at)chatsports(dot)com
415-545-8671