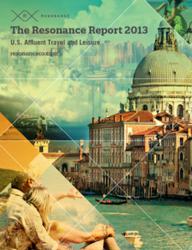 37% of affluents said that wine country tours and cruises are the experiences they'd like to have on vacation
New York, New York (PRWEB) May 23, 2013
A cruise or a wine country experience, be it in Bordeaux, Napa or Tuscany, is at the top of affluent travelers' dream vacation lists, beating out Broadway shows or visits to rare or remote landscapes, according to the Resonance Report on Affluent Travel and Leisure.
The report surveyed more than 1,200 U.S. households with incomes of $150k+ in partnership with The Luxury Institute to evaluate their plans for travel, recreation and the purchase of vacation homes in the next 12-24 months. A copy of the full report can be downloaded here.
37% of affluents said that wine country tours and cruises are the experiences they'd like to have on vacation. 34% said they'd like to attend a Broadway or West End show. Desired experiences showed marked contrasts from there: 33% would like to visit a rare or remote landscape or take a trip on the Orient Express or the Rocky Mountaineer; 31% would like to go to a luxury casino and Vegas show or a safari in Africa.
"The popularity of both wine country and cruising points to very different trends," says Resonance Consultancy President Chris Fair. "Wine is culture and art, wine is scenery and history, and wine is the best friend of food. It really embodies some of the most compelling reasons that people travel, and some of its most pleasurable experiences."
"Cruises really speak to the trend in multi-generational travel. They're an easy way for parents, grandparents and kids to explore a place together...without being stuck together," says Fair.
Top Experiences of Interest While on Vacation
1. Tour through wine country in Bordeaux, Napa, Tuscany
1. Cruise on a luxury liner such as the QE2
2. Attend a Broadway or West End show
3. Visit a rare or remote landscape (i.e. Antarctica, etc.)
3. Take a trip on the Orient Express or Rocky Mountaineer
4. Trip to luxury casino and attend shows in Las Vegas
4. Go on a safari in Africa
5. Attend a major sporting event (ie. Wimbledon)
5. Take a family vacation to Disney
6. Go on a spa retreat (such as Canyon Ranch)
7. Gourmet cooking lessons abroad
8. River rafting or canoeing adventure
9. Visit a part of the world that is endangered
10. Attend a film festival such as Sundance or Cannes
About Resonance Consultancy (http://www.resonanceco.com)
Resonance Consultancy provides brand development, strategic marketing and planning services to leading travel & tourism companies and organizations around the world. The principals of Resonance have completed more than 100 travel & tourism studies, reports and plans in 65 different countries.