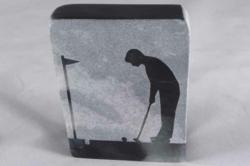 Of all nature's gifts to the human race, what is sweeter to a man than his children?

Marcus Tullius Cicero
Minden, Ontario, Canada (PRWEB) May 24, 2013
The online art gallery MadeInHaliburton.ca announces the release of newly created items just in time for Father's Day. There is something here that every father will appreciate. The hard to buy for Dad will enjoy choosing his own special gift from over 500 items on the website. For a limited time MadeInHaliburton.ca is offering a bonus addition to the gift certificate. Purchase a $200 or higher value certificate and mention this special in the comment box, to have a 10% bonus added to the value at no additional cost. That's right, buy a $200 certificate and MadeInHaliburton.ca will make it $220.
The music-loving father will really appreciate receiving tickets to the incredible and unique Forest Festival that is being held from August 14 to 18th, 2013. The performances that are scheduled to occur at the Bone Lake Amphitheatre are especially magical. The audience sits in an amphitheatre overlooking a lake with a floating stage. Internationally acclaimed performers provide the entertainment while the sun sets, the planets rise and the stars come out. Being in a remote forest means there is no light pollution, only the stage lights, and the audience can see the stars, and the milky way, in all their glory. It is so awe inspiring that one of last year's performers found tears in her eyes at one point in her performance because she was so overcome by the beauty of the setting.
Stone Silhouettes. by Soundings Studio artist Kim Warne, are stone sculptures that have a sandblasted image of a favourite activity, or place. These make a wonderful memento and send a very personal message to Dad. There are a variety of ready-made silhouettes but, special orders can also be fulfilled if the order is received in time.
Hot off Susanne James's potting wheel is a newly designed tumbler that is large enough to hold a beer or whatever Dad's favourite beverage happens to be. These tumblers help to keep the beverage cold due to the natural insulating quality of clay. Warm hands, on a hot day, won't affect the temperature of the beverage.
Brent McGillivray has been hard at work creating more of his fabulous advertising and architectural images. Dad's man cave would get a lift from one of these colourful and manly prints or originals.
These are but, a small number of the items available to please Dad on his special day from MadeInHaliburton.ca. Each of the over 500 items on the website are hand made and created with love by an artist who lives or cottages in the Haliburton Highlands, Ontario, Canada. Artists who are part of this website are juried in by a committee of the Arts Council~Haliburton Highlands.