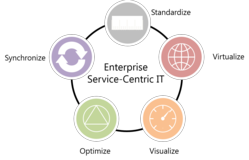 By breaking away from the traditional IT model, businesses move to a service based delivery model
Herndon, VA (PRWEB) May 23, 2013
Windward IT Solutions, the pioneer in Service-Centric IT solutions, announces a recent White Paper demonstrating how today's leading companies and Federal agencies are driving transformation from technology-centric IT to Service-Centric IT, in order to align their IT investments with business value.
For decades, IT leaders and visionaries have remained focused on building and running IT infrastructures that ensure peak availability and performance of technology but not recognizing the importance of ensuring business performance objectives are being met. Windward understands and specializes in ensuring that technology investments must demonstrate an ability to improve business operations, increase profitability, and reduce risks across the organization.
Windward's white paper addresses the rapid and evolving business environment by highlighting key attributes of a Service-Centric IT organization. Discover how to use services as the foundation of the organization, not technology along with how to drive maximum value out of existing capabilities.
"Enterprise Service-Centric IT relies on the five core disciplines of standardize, synchronize, optimize, visualize and virtualize, which should be the building blocks of any organization" said Sean McDermott, CEO and Founder of Windward IT Solutions. "By breaking away from the traditional IT model, businesses move to a service based delivery model which enables IT environments to be designed, built and operated in a highly efficient IT infrastructure that is tightly aligned with business objectives."
Read the full White Paper, Top Attributes of a Service-Centric Organization, at http://www.windwardits.com/white-papers/
ABOUT WINDWARD IT SOLUTIONS
Founded in 1997, Windward IT Solutions is at the forefront of Service-Centric IT. With strategic consulting, unparalleled technical expertise, and our proven Windward Service-Centric IT Roadmap, we help our clients align the core competencies of process, organization, information, and technology to effectively address business and mission priorities. Windward offers a proven set of technology-independent solutions focused on the three core disciplines of Service-Centric IT – Service Management, Infrastructure Management, and Operations Management – to help our clients plan and deliver high-impact IT services. Windward is headquartered in Herndon, VA. More information on the company can be found online at: http://www.windwardits.com.