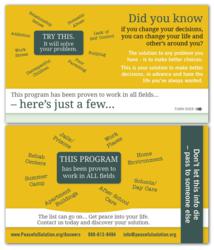 We believe when the leaders understand how this program will change a person from being hateful and violent to peaceful and caring, they will push to get it spread worldwide
Abilene, Texas (PRWEB) May 24, 2013
The Peaceful Solution Character Education Incorporated, a non-profit organization based in Abilene, Texas has revealed a new distribution card with the information they say will solve any problem that exists.
The group says they're on a mission to let every person know they have an answer to overcome any obstacle in their life. They believe the best way to get the answers into the hands of the people is through the leaders.
"We're willing to send these cards free of charge to anyone who wants to help pass them out," says Yisrayl Hawkins, author and founder of the program.
"We'd like to get them in the hands of leaders in all fields, such as political and religious leaders and educators alike. We believe when the leaders understand how this program will change a person from being hateful and violent to peaceful and caring, they will push to get it spread worldwide," Hawkins said.
Once you request the cards, the group says they will also help with tips and suggestions on how to get them into the hands of the local leaders.
The group says the cards can be requested by contacting them. Their website can be found at http://www.peacefulsolution.org.
About Us
Pioneered by President Yisrayl Hawkins in 1994, The Peaceful Solution Character Education Incorporated began with a group of concerned parents and teachers whose keen observations led them to realize that positive character development was rapidly deteriorating in our society. Their concern prompted them to proactively embark on a mission to stop the decline and bring back positive character behaviors to society.
In 2004, The Peaceful Solution Character Education Program, authored by President Yisrayl Hawkins, was successfully introduced in the United States and nine other countries.
Since that time the program has been successfully implemented in schools, prison systems, after school programs, daycare centers, apartment complex, businesses, non-profit organizations and in the home.
Media Contact:
Rebekah Mathews or Eugenia Schoenheinz
888-613-9494