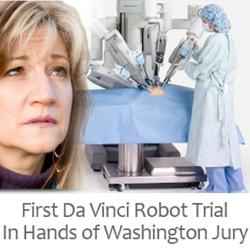 If you or a loved one has been injured by a da Vinci surgical robot contact Wright & Schulte LLC, a leading medical device injury law firm today at 1-888-365-2602 or visit www.yourlegalhelp.com
Columbus, OH (PRWEB) May 23, 2013
The Da Vinci robotic surgery lawyers at Wright & Schulte LLC are awaiting the outcome of the first Da Vinci Robotic surgery lawsuit trial in the country over alleged Da Vinci robotic surgery complications. According to a report from Bloomberg News, jury deliberations began in the Washington State Da Vinci Robotic Surgery Trial this week, which was filed by the family of a man who died, allegedly due to complications he sustained in prostate removal surgery with the Da Vinci Surgical System. According to Wright & Schulte LLC, the findings of the jury in this Da Vinci robotic surgery lawsuit could help gauge other how juries will weigh similar claims. (Estate of Fred E. Taylor v. Intuitive Surgical Inc., 09-2-03136-5, Superior Court, State of Washington, Kitsap County)
[bloomberg.com/news/2013-05-22/intuitive-robotic-
surgery-case-goes-to-seattle-area-jury.html;
Bloomberg news, 5-22-201]
Wright & Schulte LLC is currently offering free personal injury lawsuit consultations to victims of alleged Da Vinci robotic surgery complications, including those who suffered:

Tears and/or burns of the intestines
Punctured blood vessels
Punctured and/or cut ureters
Severe bowel injuries
Vaginal cuff dehiscence
Excessive bleeding
Surgical burns
Sepsis
Peritonitis
Death
For more information on filing a Da Vinci surgical robot lawsuit, or to arrange for a free legal consultation, please visit yourlegalhelp.com.
According to Bloomberg, the patient in the Da Vinci Robotic Surgery lawsuit in Washington died in August 2012, after having undergone a robot-assisted prostatectomy in 2008 that resulted in several serious complications. However, his family claims that those injuries, which included a rectal tear, brain damage, and permanent incontinence, hastened his eventual death from heart failure. Among other things, they allege Intuitive Surgical, the manufacturer of the da Vinci Surgical System, reduced its training protocols for doctors in order to sell more robots, Bloomberg said.
During closing statements earlier this week, the Plaintiffs' attorney likened the company to a car dealership that wanted to control both sales and services to its customers. According to Bloomberg, he urged the 12-person jury to award the family more than $8 million in damages.
[bloomberg.com/news/2013-05-20/intuitive-resembled-a-car-dealership-lawyer-tells-jury.html; 5-20-2013]
The case underway in Washington is just one of 26 da Vinci surgical robot lawsuits filed against Intuitive Surgical that allege defects with the machine and/or inadequate doctor training, according to an April 19th filing with the U.S. Securities and Exchange Commission. Intuitive Surgical is also facing scrutiny from the U.S. Food & Drug Administration, which is investigating a rise in reports of da Vinci surgery complications. According to Bloomberg, the agency began surveying surgeons in January about possible complications they've observed, as well as their training on the machine.
[sec.gov/Archives/edgar/data/1035267/000119312513162385/d508282d10q.htm; Intuitive SEC Filing, April 2013]
[bloomberg.com/news/2013-02-28/intuitive-surgical-robots-probed-by-u-s-in-survey-of-surgeons.html, Bloomberg News, February 2013]
About Wright & Schulte LLC
Wright & Schulte LLC, an experienced personal injury firm, is dedicated to the belief that America's legal system should work for the people. Every day, the attorneys of Wright Schulte LLC stand up for the rights of people who have been injured or wronged, and fight tirelessly to ensure that even the world's most powerful corporations take responsibility for their actions. If you're looking for a law firm that will guarantee the aggressive and personal representation you deserve, please do not hesitate to contact Wright & Schulte LLC today. Free case evaluations are available through yourlegalhelp.com, or call 1-800-399-0795.
Contact:
Wright Schulte LLC
812 East National Road
Vandalia, Ohio 45377
1-800-399-0795