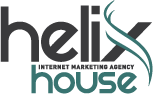 It is clear to see that Helix House is an important company in the world of online marketing...
TEMPE AZ (PRWEB) May 23, 2013
Helix House, a progressive and forward-looking online marketing firm with a proud history of delivering high quality online marketing strategies designed for the Internet age announces its ongoing recognition as a top Internet marketing firm. In a recent analysis published by an independent third-party authority on top search vendors, Helix House has once again scored in the top 20 percentile of a long list of the 100 best online marketing companies. This important and unbiased ranking considers a wide range of factors including a firm's newly achieved results, its new clients, as well as its proprietary technologies and techniques.
TopSeos.com is a trusted and respected name in the search vendor ranking industry and routinely updates its list of top search vendors each month. It is clear to see that Helix House is an important company in the world of online marketing, considering that this ranking measures metrics from thousands of online marketing businesses. Online marketing agencies with top performance are identified throughout a month-long process and a list is then generated that shows each companies monthly ranking. Helix House consistently scores high on the list each month making it clear that it is a formidable force in the world of online marketing.
In many instances team members of TopSeos.com actually contact clients of individual online marketing firms and interview them regarding their experience with that firm. Because team members are completely independent and unbiased in conducting their research of various marketing companies their results are trusted and respected throughout the industry. By interviewing and talking with prior clients of various online marketing firms, TopSeos.com is able to better understand how well each SEO company is performing through a wide range of operational parameters.
Because Helix House is known for impressive customer satisfaction and a large volume of repeat business, it is obvious and clear why the company consistently scores high in its ranking. TopSeos.com is a completely independent authority that covers online marketing firms across the globe. Thousands of visitors turned to TopSeos.com each day to find the best online marketing services available. More businesses than ever before are discovering Helix House and its highly effective online marketing strategies. Ongoing and consistently high rankings by independent third-party authorities of search vendors makes it clear that Helix House is the preferred agency when businesses demand the best in online marketing.
Helix House is a highly innovative and forward looking Internet marketing agency located in sunny Arizona ad breezy New Mexico that has consistently exceeded industry expectations to rank highest among some the best online marketing firms in the country.