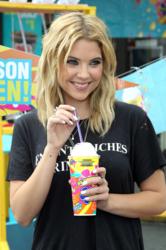 New York, NY (PRWEB) May 23, 2013
Slurpee summer is here and 7-Eleven, home of the iconic frozen drink, is on a mission to make this summer #AWESUMMER by offering great deals, discounts, coupons and refreshing treats all summer.
Actress Ashley Benson of the hit TV show "Pretty Little Liars" and indie box office smash "Spring Breakers," will appear at a Los Angeles 7-Eleven on Wednesday, May 22 to take the ceremonial first Slurpee sip of summer and set off a custom made Rube Goldberg-esque machine (designed and created by the University of California, Irvine), precipitating a chain reaction that ultimately raises a colorful banner officially opening Slurpee Season 2013.
Typically, limited-release Slurpee flavors are kept top secret until they become available in the stores but 7-Eleven is revealing their exclusive summer flavors ahead of launch:

May 18 – June 23: Slurpee Lite Sugar Free Sprite flavor
Slurpee Fanta Oddball Orange
June 24 – Sept. 3: Slurpee Lite Sugar Free Fanta Mango Lemonade
Slurpee Fanta Strawberry Lemonshade
Guests who download the 7-Eleven App to their smartphone via App Store or Google Play will gain access to coupons for free merchandise every week all summer long and other exclusive offers. Later this summer, 7-Eleven will reveal plans to celebrate 7-Eleven Day and the company's 86th birthday.
For more information about Summer Slurpee Days, and digital download video and photos for media usage, visit http://magicbulletmedia.com/MNR/711Awesummer
B-ROLL: EVENT FOOTAGE, PRODUCT & IN-STORE IMAGES AND SOUNDBITES FROM ASHLEY BENSON
7-Eleven began its run in 1927 when a Southland Ice Company employee started selling bread, milk and eggs on an ice dock in a Dallas suburb. The small ice company has grown into a major international retailing chain with more than 10,000 7-Eleven stores in North America and approximately 49,500 stores worldwide. Find out more at http://www.7-Eleven.com.