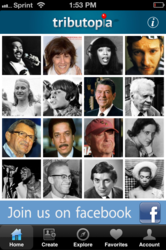 San Francisco, CA (PRWEB) May 23, 2013
Flowers placed on the side of the road. Personal mementos left where a loved one is remembered. Pictures of family, friends or celebrities shared on Facebook — words and memories filling the comments section. How we remember those who have left this life is a complex, emotional and social process, often shared with friends, family and even strangers. This Memorial Day, documentary film studio Open Eye Pictures releases Tributopia, an iOS app, to help mark and remember those no longer here, with the support of community through social media.
In an increasingly mobile world, people are losing touch with places and rituals for mourning and remembrance. Tributopia creates virtual tributes through its unique mobile app interface, allowing loved ones to upload photos, leave memory notes, and tag locations that hold special meaning.
The app launches today with hundreds of global tributes, from Princess Diana to Martin Richards, the youngest victim of the Boston Marathon bombings. Anyone can submit a tribute, or find tributes made by others, and add their own memories. Using geo-tagging and augmented reality, the user can locate memories on a map or look through the viewfinder to see tributes nearby.
The idea for Tributopia came to Andy Abrahams Wilson, founder and president of Open Eye Pictures, during the filming of the PBS documentary "The Grove", a profile of the National AIDS Memorial in San Francisco. "I realized how important it was to have a place to remember and a community to remember with," said Wilson. "Tributopia is a groundbreaking way to connect memory to place, and join in a community based on shared loss."
Tributopia received partial funding from ITVS, the Independent Television Service and is available for free in the iTunes app store. For more information, visit http://tributopia.com/.
Download Tributopia: https://itunes.apple.com/app/id551336016?mt=8
Press Kit: https://www.dropbox.com/sh/fti92wu8x8n0bj2/5KOe4FmvED
About Open Eye Pictures:
Founded in 1994 and incorporated as a California public benefit corporation in 2005, Open Eye Pictures is a multi award-winning, nonprofit organization specializing in the production and distribution of creative, educational media. Recent films include the PBS documentary "The Grove" and the Academy Award shortlisted "Under Our Skin."
About ITVS:
Mandated by Congress in 1988 to bring documentary films featuring underrepresented voices to public broadcasting, Independent Television Service (ITVS) is a global media organization that funds, presents, and promotes award-winning documentaries on public, cable, and foreign television, innovative new media projects on the Web and mobile, and the Emmy Award-winning series Independent Lens.