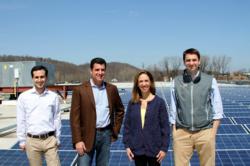 "It was an honor to host Assemblywoman Amy Paulin at our facility, and to be singled out as a great example of green energy," said GPNY Vice President Nat Mundy
Mount Kisco, NY (PRWEB) May 23, 2013
Assemblywoman Amy Paulin, chair of the New York State Energy Committee, recently visited Grand Prix New York (GPNY) as part of her mission to provide New Yorkers with cleaner, more efficient ways to consume energy and make a positive long-term impact.
Late last year, GPNY made major changes to reduce its energy use, including the installation of 216 solar panels on its roof and the addition of long life LED bulbs to its lighting system. The solar panel system will generate 58,360 kilowatt hours annually and shave around $10,000 from the company's electric bill over the next year. Excess electricity generated by Grand Prix New York's solar farm will be redistributed to the Con Edison grid. The LED lighting, manufactured and installed by Mount Kisco-based Xeleum Lighting, has the potential to produce an annual energy cost savings of 60% to 80% from the reduced cost of electric energy and - due to cooler operating temperatures - a reduction in air conditioning usage.
After visiting GPNY, Paulin said in an email to constituents that she hopes "many more commercial businesses in New York State consider making this type of move. It is smart business sense and good for the environment."
Paulin said she was impressed that building owner Diamond properties funded the project. "They are working toward making their community better in terms of energy consumption while serving as a leader in what promises to be a burgeoning industry," she said in her email.
While at Grand Prix, Paulin met Mehrdad Ghalebi, president of Xeleum Lighting, who explained how LED lights conserve energy.
"It was an honor to host Assemblywoman Amy Paulin at our facility, and to be singled out as a great example of green energy," said GPNY Vice President Nat Mundy. "By keeping our energy consumption in check, we're helping to preserve the environment and saving money at the same time; it's a win-win."
Grand Prix New York and Spins Bowl are located at 333 Bedford Road, Mount Kisco. For more on Grand Prix New York and Spins Bowl, visit http://www.gpny.com or http://www.SpinsBowl.com.
About Grand Prix New York
Grand Prix New York Racing (GPNY) is the only large indoor racing, social entertainment, and corporate event venue in the New York City-metro area. Centrally located in the village of Mount Kisco, New York, GPNY is a unique 118,000-square-foot facility that offers a quarter-mile-long, state-of-the-art racetrack for all ages; Spins Bowl (a 19-lane bowling center and special events services); Fuel restaurant and bar, with award-winning catering; an arcade, carnival room, banquet facility, conference rooms, and more. GPNY is actively involved in community outreach and fundraising efforts. Since its inception in 2008, GPNY has raised hundreds of thousands of dollars for local charities by hosting high-profile fundraising events.
About Xeleum
For over 25 years, Xeleum has been designing and manufacturing lighting and other electronic products for commercial, industrial and residential applications. Xeleum is an ISO-9001-2008 and ISO 13485 certified manufacturer with its world headquarters located in Mount Kisco, N.Y. For more information, please visit http://www.xeleum.com.