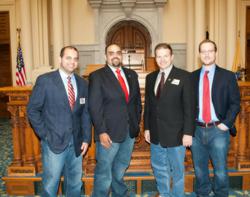 (PRWEB) May 23, 2013
Over 1,000 schools, companies, and government agencies are taking part in a nationwide movement to support returning veterans this Memorial Day and help them get the assistance they need as they come home.
From schools and teacher associations to government agencies and Fortune 100 companies, employers of all kinds are participating in the GI Go Fund "Jeans for Troops" Drive on Thursday, May 23 to help raise funds for veterans and their families. Employers from across the country will allow employees to wear jeans to work for a $5 donation to help the GI Go Fund further its mission of providing veterans with help finding employment and educational opportunities, homelessness assistance, and connections to critical benefits.
The program has enjoyed tremendous success in the past, as over 600 companies, schools, municipalities, and government agencies took part in the drive last year to raise over $175,000 for veterans. Participating employers from 2012 included Johnson & Johnson, NJEA, Marsh & McLennan, Cablevision, and the Port Authority of NY/NJ. This year, the drive will have over 140,000 employees from coast to coast joining the movement for our veterans, expanding the level of support for the organization to new bounds.
"This Memorial Day, the community of GI Go supporters has grown to its largest ever, with over 140,000 people joining forces together with our organization to recognize the tremendous sacrifice the members of our military have given for our freedoms," said GI Go Fund Executive Director Jack Fanous. "I am so proud that a small movement that began with just a few participants has grown to a nationwide effort that is paying tribute and remembrance to our military."
The GI Go Fund is an organization on the cutting edge in providing support to veterans, providing veterans with innovative ways of finding employment, securing their educational and health benefits, as well as providing aid and assistance to low income and homeless veterans. From collaborating with a city to make its newest class of firefighters feature all veterans of Iraq and Afghanistan to working with the VA to prevent a veteran who requested assistance via Twitter as he was losing his home, the GI Go Fund has changed the way veterans receive the support they need.
Their approach to assisting veterans has been featured on several nationwide media outlets, including Fox News, the Associated Press, and on the ABC reality series "Secret Millionaire", which highlighted the group's efforts with homeless veterans.
In addition, the organization has done tremendous work for veterans who were affected by Hurricane Sandy, providing rapid response to victims of the storm by delivering thousands of blankets and needed clothing and other supplies to shelters across the region, as well as bringing Emergency Financial Assistance and Toys for the Holidays for the thousands of Veterans devastated by the storm in the months that followed.
The drive's success is due in large part to the support of hundreds of schools from all across the country, who are supporting veterans through the fundraiser while using it as a teachable moment for their students to educate them about the sacrifices made by our military. This has been a guiding principle for schools participating in the program, especially for the NJEA, who alone has over 300 of its schools taking part in this effort of supporting our returning troops.
"NJEA is proud to sponsor the GI Go Fund's Jeans for Troops program," said NJEA President Barbara Keshishian. "Our members, many of whom are veterans themselves, are committed to supporting our troops as a way of thanking them for their service."
The "Jeans for Troops" Drive occurs twice a year during the Memorial and Veterans Day holidays to help the veterans returning home from Iraq and Afghanistan, as well as veterans from all conflicts. The GI Go Fund has received an unprecedented level of support from employees across the country, and the continued support of America's companies and schools will have an enormous impact on the lives of the millions of our nation's veterans and their families.