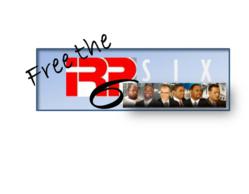 "If you are neutral in situations of injustice, you have chosen the side of the oppressor."

Bishop Desmond Tutu
Denver, Colorado (PRWEB) May 23, 2013
A Just Cause and Friends of Justice have been investigating a Colorado federal criminal case involving six businessmen believed to be wrongly convicted. The case of the IRP6 (Kendrick Barnes, Gary L. Walker, Demetrius K. Harper, Clinton A. Stewart, David A. Zirpolo and David A. Banks) is currently under appeal in the 10th Circuit Court of Appeals. The men were convicted in 2011 and have been incarcerated at the Federal Prison Camp in Florence, Colorado since the summer of 2012.
"Proving the legitimacy of our business was key to our defense," says David Banks, COO of IRP Solutions. "We were not allowed to show our involvement with agencies like the Philadelphia Police Department," Banks adds.
A Just Cause announces the release of an investigative report by Dr. Alan Bean, Executive Director of Friends of Justice. "Dr. Bean's report takes a look at this story from various angles," says Sam Thurman of A Just Cause. "It compares IRP's business to other IT businesses and it points to signs of overcriminalization," Thurman adds.
In "Money for nothing: how racial bias destroyed six lives, stymied a black owned business and outraged an entire congregation," Dr. Bean investigates how the government interfered with IRP doing business. Philadelphia city records show that IBM was awarded a $4.7 million contract in 2002 to computerize the police department's records. After seven years the city had invested $7.1 million in a failed project for Philadelphia Police Department. http://technical.ly/philly/2012/11/13/philadelphia-police-typewriters-technology/
A report by the House Appropriations Committee's surveys and investigations staff shows that the FBI's failed Virtual Case File was budgeted at $170 million. http://www.usnews.com/usnews/news/articles/050607/7committee.pdf
"The government tried to say that our debt was large, when in actuality, it was small when compared to other major software development efforts," says Banks. "We accrued normal business debt and we made good faith decisions in an effort to settle that debt. We were prevented from executing business, and our actions were deemed criminal," adds Banks.
Court documents show that IRP6 presented a proffer with communications showing their involvement with Philadelphia PD. Corporate communications show Banks offering the software solution to Everett Gillison, Deputy Mayor of Public Safety with the City of Philadelphia.
David Banks says, "We are so confident that our software solution would improve law enforcement operations and efficiency (for Philadelphia) that we were willing to deliver and implement this key module at absolutely no charge and let the Deputy Mayor and the Police Commissioner Ramsey experience the benefits firsthand."
"We hoped that when they (Philadelphia) saw that the software worked they would invest in more advanced modules," Kendrick Barnes said. "All the city would have to pay for was customization, configuration and maintenance fees," Barnes adds.
Court documents show that on January 19, 2009, Lorelie Larson with the Philadelphia Office of the Inspector General informed Banks, "All of the OIG staff is very excited about this venture." A month later, Gery Cardenas, Director of Information Technology for the Philadelphia Police Department was telling FBI agent Jennifer Ngo that "PPD was very close to having the (CILC) product installed prior to the discovery of the IRP Solutions investigation." According to Ngo's interview notes, the CILC module "seemed to look exactly like what Cardenas and the PPD was looking to purchase."
Court records show that the defendants submitted a proffer showing where Philadelphia officials were informed by the Denver U.S. Attorney's office that IRP Solution would soon be indicted. Analysis of timelines reveals that it would be six months before the government presented the IRP Solutions case to a grand jury. Dr. Bean reviews this and other compelling situations in his narrative. http://friendsofjustice.wordpress.com/blog/
"How can someone predict that an indictment is coming," ponders Gary Walker, CEO of IRP Solutions. "It was this type of interference and black-balling that prevented us from generating revenue and taking care of our debt. As long as we were prevented from generating revenue, and we were not allowed to bring it up during the trial, the government had their case right where they wanted it," Walker states.
After conducting nearly 100 interviews, Bean states, "The general belief was establishing the viability of their (IRP's) product would lead to... cash flow and the ability to finally discharge the company's debt."
"Our review shows that several things went wrong in this case", says Sam Thurman of A Just Cause. "Not only were the guys not allowed to bring in expert witness testimony, they were not allowed to present evidence to show how they were conducting business that would have helped them resolved their outstanding debt," adds Thurman.
During pre-trial, affidavits were submitted to defense attorneys by members of A Just Cause who met with Bob Goffi, FBI Lead Counsel in Denver, who stated that if the agents went outside of the scope of the search warrant that it was grounds for a law suit against the FBI and grounds for the search warrant to be thrown out. "I was in the meeting with Bob Goffi, along with Sam Thurman and others when Mr. Goffi talked about actions that could be taken. There was always a question around the execution of the warrant", Stewart adds.
Analysis done by A Just Cause and Friends of Justice determined that IRP Solutions had a critical niche to fill in law enforcement. "When 9-11 occurred, we saw there was a breakdown in communications between agencies. CILC was the software that was needed to allow local, state and federal law enforcement agencies to communicate with each other effectively," said Lynette Campbell of A Just Cause.
"If progress had not been impeded by the investigation, raid, trial, conviction and imprisonment of the IRP Solutions executives, the law enforcement community would have had CILC as a valuable weapon in its arsenal," stated Lynette Campbell of A Just Cause. "It seems like the government was working against itself," added Campbell.
"The Heritage Foundation defines overcriminalization in such a way that I think it fits with what happened in the IRP6 case," concludes Thurman.
The Heritage Foundation defines overcriminalization as, "...the trend to use the criminal law rather than the civil law to solve every problem, to punish every mistake, and to compel compliance with regulatory objectives. Criminal law should be used only if a person intentionally flouts the law or engages in conduct that is morally blameworthy or dangerous (http://www.heritage.org/issues/legal/overcriminalization)."
For Dr. Bean's complete narrative visit http://friendsofjustice.wordpress.com/blog/
Related story: Denial of Evidence Impacts Federal Criminal Case Against African American Businessmen in Colorado Says Report from Friends of Justice and A Just Cause http://www.prweb.com/releases/2013/5/prweb10753406.htm.
For more information about the story of the IRP6 or for copies of the legal filings go to http://www.freetheirp6.org
(Case of the IRP 6 is currently under appeal - US District Court for the District of Colorado, Honorable Christine M. Arguello, D. Ct. No. 1:09-CR-00266-CMA; Case Nos: NO. 11-1487, Case Nos. 11-1488, 11-1489, 11-1490, 11-1491 and 11-1492)
Note: A Just Cause is collaborating with Jabar International on the development of documentary telling the IRP Story - "What Color Is The American Dream? The IRP6 Story: An American Dream Turned Nightmare".