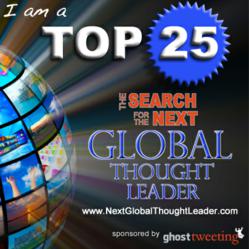 It's an honor to be a finalist with this group of people who are trying to make the world a better place.
Dallas, TX (PRWEB) May 24, 2013
Aspiring thought leaders from six continents entered the 2013 Change the World Competition with the same goal: To spread their inspirational messages globally using the incredible power of social media.
Humanitarians, physicians, human services professionals, victim advocates, entrepreneurs, and innovators with life-altering visions applied - but only 25 were chosen as quarterfinalists. One of the standouts was Pamela Gail Johnson, founder of the Secret Society of Happy People with her mission to change the world by creating a cultural shift in how we communicate about happiness.
Change the World is a reality-style competition where the social media community selects the winner. The contest is sponsored by GhostTweeting.com, a full-service social media marketing company. Nika Stewart, CEO of Ghost Tweeting, created this competition to "discover and shine a spotlight on remarkable people who are devoting their lives to making our world a better place." Ghost Tweeting partners with entrepreneurs, authors, speakers and thought leaders to create and manage high-impact social media campaigns.
In the next stage of the competition, a panel of thought leader judges will narrow the field down to just 10. These 10 will compete in online challenges to see who will be crowned the 2013 Next Global Thought Leader. The grand prize winner will receive thousands of dollars worth of social media marketing services to broadcast their messages over several social media platforms. The all-star panel of judges includes:

Tory Johnson: Good Morning America contributor, New York Times bestselling author, contributing editor to SUCCESS magazine, multi-million-dollar business starter, founder of Women For Hire
Angela Jia Kim: National spokesperson featured on NBC's The Today Show, MSNBC, Cosmopolitan, Wall Street Journal, and Fox Business News.
Ted Rubin: Chief Social Marketing Officer of Collectivebias.com, a leading social marketing strategist, and inventor of Return on Relationship.
Fabienne Fredrickson: Founder of ClientAttraction.com, ranked on the Inc. 500/5000 List of America's Fastest Growing Private Companies in 2011 and 2012
Mike Michalowicz: Best-selling author of "The Toilet Paper Entrepreneur" & "The Pumpkin Plan" and host of the business make-over segment on MSNBC's Your Business
Simon T. Bailey: International speaker, author, thought leader & founder of The Brilliance Institute.
Melanie Strick: Co-author of Entrepreneur.com's Start Up Guide to Starting an Information Marketing Business.
###
The Secret Society of Happy People was founded in 1998 to encourage the expression of happiness and discourage parade-raining. They will celebrate the 13th Annual Happiness Happens Month in August and 14th Annual Happiness Happens Day on August 8 with HappyThon. The Society is your online resource for happiness inspiration, boosters, and celebrations and has thousands of members from around the world.