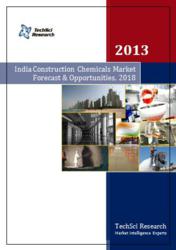 Indian government's initiative towards favourable policies like National Building Code and Green Building is estimated to boost the growth in construction chemicals market, said Mr. Karan Chechi
Vancouver, British Columbia (PRWEB) May 23, 2013
Indian construction chemicals market is showcasing huge growth potential, as the industry is estimated to grow at a strong growth rate during 2013-2018. One of the key factors contributing to the growth of construction chemicals market in India is the government's initiatives towards infrastructural development. The construction industry is witnessing support from World Bank and ADB and all the projects funded by these organizations necessitate the use of construction chemicals. The revenue generated from FIIs and intra-country support from UAE and Japan is anticipated to encourage growth in the construction sector in India. The construction chemicals market is forecasted to move towards consolidation with the advantage of in-house R&D capacity and government initiatives for quality products.
According to a recently published report by TechSci Research "India Construction Chemicals Market Forecast & Opportunities, 2018", construction chemicals market in India is expected to drive the market revenues up to USD 1.13 Billion by the end of 2018. However, one of the major challenges that the industry is facing is the low awareness level for which various initiatives are being taken by leading industry players. The formation of construction chemicals association is one such move towards the construction chemicals campaign direction. The industry players have also commenced their endeavour in the retail segment to serve the large market of individual built homes in the real estate segment.
"Indian government's initiative towards favourable policies like National Building Code and Green Building is estimated to boost the growth in construction chemicals market. The government has come up with single window clearance scheme in order to avoid any delay in the commencement of infrastructural projects. The major growth is expected to be recorded in admixtures and waterproofing segments as they act as an essential for structuring of the building," said Mr. Karan Chechi, Research Director with TechSci Research a research based global management consulting firm.
"India Construction Chemicals Market Forecast & Opportunities, 2018," has evaluated the future growth potential of India's construction chemicals market and provides statistics and information on market structure, consumer behaviour trends. The report includes construction chemicals market projections and demand forecasting. The report is intended to provide cutting-edge market intelligence and help decision makers to take sound investment evaluation. Besides, the report also identifies and analyzes the emerging trends along with essential drivers, challenges and opportunities available in construction chemicals market in India.