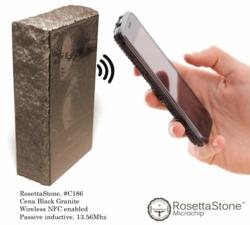 Phoenix, Arizona (PRWEB) May 23, 2013
RosettaStone Microchip™, the leading provider of monument technology to the memorial industry, wins the Contactless & Mobile Innovation Award in London, England, April 30, 2013.
Now in its sixth year, the Contactless & Mobile Awards (sponsored by Visa Europe) has yet again attracted a record turnout, making it an important fixture in the contactless calendar. "We've seen entry numbers grow year-on-year, highlighting the dynamism of this burgeoning industry," said Steve Atkins , CEO of Krowne Communications, the company behind Contactless Intelligence.
RosettaStone is the world's first memorial product to have successfully integrated NFC, (Near Field Communication) wireless technology with natural granite. The application of this achievement was presented in the award winning form of a desktop memorial obelisk, part number #C186. The C186 is made from a solid block of Cena Black granite that measures 4.32 inches in finished height. The stone responds to the touch of a NFC enabled cell phone returning genealogical and memorial information about the deceased. The permanently archived information is presented in up to 10,000 words of text, a single picture and a mapped geographic grid coordinate showing the place of interment.
"I'm just thrilled," said John Bottorff, one of the products inventors on stage at the London Hilton. "The fact that a memorial industry product has achieved this level of technology recognition is a bellwether as significant as the technology itself."
RosettaStone memorial products seamlessly integrate microchip technology within natural granite stone providing a patent pending alternative method of accessing a monuments archived data file. Although the products are not yet marketed in the U.S. they are available as a direct purchase to qualified industry professionals.
About RosettaStone Microchip
RosettaStone Microchip™ is the leading provider of monument technology to the memorial industry. Products include short-range wireless and long-term historical archiving of outdoor statuary, monuments and landmarks. RosettaStone Microchip is a privately-owned and operated business located in Phoenix, Arizona, United States.