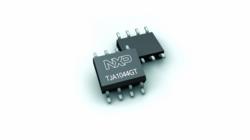 Eindhoven, Netherlands (PRWEB) May 23, 2013
Building on its industry-leading position in in-vehicle networking (IVN), NXP Semiconductors N.V. (Nasdaq: NXPI) today introduced Mantis™, a new family of HS-CAN transceivers. Mantis (TJA1044T and TJA1057T) and Mantis GT (TJA1044GT and TJA1057GT) offer a feature set targeting 12 V automotive applications and deliver excellent EMC performance, with the high-end "GT" variant guaranteeing critical parameters for CAN FD (Flexible Data rate) networks. All members of the Mantis family are dual-sourced from locations in the Netherlands and Singapore to provide an agile, high-capacity and secure manufacturing base.
With the market demanding continued productivity of basic CAN functions, Mantis offers a feature set tailored to fulfill the requirements of mainstream automotive applications. In particular, Mantis takes a step forward by uniquely meeting today's EMC emission limits at 500 kbps without requiring a common-mode choke – and with a choke, these same limits can be met at data rates of 2 Mbps in CAN FD networks. In addition, the devices' bus pins are tolerant to ±42 V, and ESD meets automotive requirements of 6 kV (IEC-61004-2) with typical standby currents of 10 µA.
"Mantis is designed as a best-in-class HS-CAN transceiver for standard automotive applications, both now and in the future. We continue to raise the bar in the industry," said Toni Versluijs, vice president and general manager, in-vehicle networking business, NXP Semiconductors. "As the industry continues to innovate to extract more from traditional CAN networks, Mantis GT addresses many of the concerns around CAN FD. With this product, NXP has shown that it's possible to also achieve excellent EMC performance at speeds of 2 Mbps and beyond, representing a major validation of the CAN FD standard."
Mantis GT also introduces loop delay symmetry, a new parameter which guarantees the integrity of CAN communication is preserved at higher speeds, resulting in a transceiver that is optimized for data rates of 2 Mbps and over. This is an important development for the industry's adoption of CAN FD, which depends on semiconductor solutions being able to support CAN communication at higher speeds.
Features

Fully ISO-11898-2 and ISO-11898-5 (TJA1044T and TJA1044GT only) compliant transceivers
Dual sourced from ICN8 Nijmegen and SSMC Singapore
Maximum voltage on CAN pins: ±42 V
6kV ESD handling capability on bus pins (IEC -61004-2 and HBM)
EMC compliant up to 2 Mbps, according "Hardware Requirements for LIN, CAN and FlexRay Interfaces in Automotive Application – Audi, BMW, Daimler, Porsche, Volkswagen – Revision 1.3 / 2012"
Logic levels compatible with 3.3 V and 5 V microcontrollers
Standby current (TJA1044T and TJA1044GT): 10 µA typical
Fully automotive qualified to AEC-Q100
Available in SO8 package
Links

About NXP Semiconductors
NXP Semiconductors N.V. (NASDAQ: NXPI) provides High Performance Mixed Signal and Standard Product solutions that leverage its leading RF, Analog, Power Management, Interface, Security and Digital Processing expertise. These innovations are used in a wide range of automotive, identification, wireless infrastructure, lighting, industrial, mobile, consumer and computing applications. A global semiconductor company with operations in more than 25 countries, NXP posted revenue of $4.36 billion in 2012. Additional information can be found by visiting http://www.nxp.com.
Forward-looking Statements
This document includes forward-looking statements which include statements regarding NXP's business strategy, financial condition, results of operations and market data, as well as other statements that are not historical facts. By their nature, forward-looking statements are subject to numerous factors, risks and uncertainties that could cause actual outcomes and results to be materially different from those projected. Readers are cautioned not to place undue reliance on these forward-looking statements. Except for any ongoing obligation to disclose material information as required by the United States federal securities laws, NXP does not have any intention or obligation to publicly update or revise any forward-looking statements after NXP distributes this document, whether to reflect any future events or circumstances or otherwise. For a discussion of potential risks and uncertainties, please refer to the risk factors listed in NXP's SEC filings. Copies of NXP's SEC filings are available from the SEC website, http://www.sec.gov.