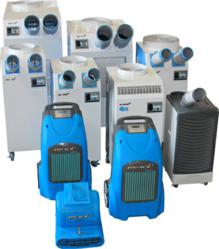 "Your AC may seem to be fine during May, but that reduced efficiency is putting a strain on the unit," says McCourt. "Once the temperature hits 100 degrees, that strain can cause the system to fail."
Dallas, TX (PRWEB) May 28, 2013
With a hot summer just around the corner, now is the time for Texans to make sure their air conditioning systems are in good working order, says Shane McCourt, regional sales manager for Portable Rental Solutions, a leading provider of portable spot coolers. McCourt has created a list of tips to help companies ensure their HVAC system is ready for hot weather.
"Many people don't realize that different parts of their HVAC system are working during winter and summer," says McCourt. "Your heating unit may have been working all winter, but the air conditioning has been sitting idle for months."
McCourt says that air conditioning systems can degrade while idle, and these changes can reduce the efficiency of the unit.
"Your AC may seem to be fine during May, but that reduced efficiency is putting a strain on the unit," says McCourt. "Once the temperature hits 100 degrees, that strain can cause the system to fail."
He offers the following tips:
1. Check refrigerant levels. Refrigerant can slowly leak from the system, even when the air conditioning is not in use.
2. Change your air filters. This is the easiest thing people can do to keep their air conditioning in good working order. Dirty filters reduce airflow, which makes the air conditioning system work harder to maintain a cool temperature.
3. Clean the outside of the unit. Make sure the compressor is free of debris, and wipe dust and dirt from the coils. McCourt says that dirty coils reduce the system's efficiency.
4. Check the condensation drain. If the drain has become clogged, water can overflow and damage the unit.
5. Have a contingency plan. Systems can still fail because of age, electrical problems or other reasons.
McCourt says that it can be difficult to find a repair technician during a heat wave, when heavy use causes many systems to fail. It can also take days for the technician to order replacement parts. Companies should know where to find emergency cooling systems if that happens.
"Do your research now and know what type of system you'll need if you do have a failure." says McCourt.
About Portable Rental Solutions
Portable Rental Solutions provides portable air conditioning units, evaporative "swamp coolers," dehumidifiers and HEPA air scrubbers, as well as a range of portable heating equipment to businesses that have a short-term or emergency need for additional HVAC equipment.
The company's self-contained air conditioning units roll into place on casters and feature simple installation, allowing them to direct cold air to a hot spot that needs cooling. The company's products are ETL listed for safety and are environmentally friendly.
Portable Rental Solutions can be reached 24 hours a day, 365 days a year. The company has offices in Texas, Arizona, and Nebraska.
For more information, call Portable Rental Solutions at 800-699-8998 or visit their web site at http://www.portablerentalsolutions.com.