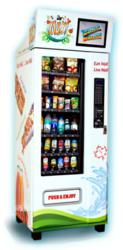 "We've seen heightened interested in organic foods from Canadians in all provinces."
Vancouver, British Columbia (PRWEB) May 23, 2013
Canadian Healthy Vending offers organic options in all of its Max! Healthy Vending Machines, and that's in sync with the preference of Canadian consumers, according to a report prepared for the Canada Organic Trade Association (COTA). The report says Canadians spend roughly $3.6 billion on organic food and beverages each year. This makes the burgeoning organic market in Canada the fourth largest in the world.
As a Canadian leader in healthy vending machines, Max! machines strives to meet this consumer trend. A variety of Canadian companies with organic products are represented in the products available in Max! healthy vending machines, with brands like Family's Best Organic Snacks, single serve juices from Kiju, Natur-a Soy & Rice Beverages, Prana Packaged Nut Snacks, Terra Nostra Non-Dairy Rice Milk Chocolate Bars and Theobroma Chocolate. These top-notch brands not only reflect the willingness of Canadians to pay more for snacks and drinks, in addition they underline that consumers expect value for their money, another part of the COTA April 2013 paper.
The report further states that Canadians are very positive about organic foods. In fact 58% of Canadians purchase organic foods regularly. Being able to read the label information on a food is important to these consumers. At Max! vending machines, prospective customers can use the high-resolution video display to find out about both the ingredients and nutritional information of organic choices or other items that interest them.
Each Max! healthy vending machine offers dual zone temperatures capable of vending both room temperature snacks and cold beverages. Max! Healthy Vending Machines attract customers wishing to buy both a snack and a beverage; having organic choices of both makes sense.
"We've known for a while that consumers not only want healthy choices, but many are looking for organic products as well. It's nice to see empirical evidence supports the largely anecdotal—until now—evidence we've seen of the heightened interest in organic foods in all the provinces of Canada," said Shaun Casey, Vice President of Canadian Healthy Vending.
About Canadian Healthy Vending
Canadian Healthy Vending is a Vancouver-based vending equipment manufacturer and distributor with over 23 years experience in the Canadian vending industry and is the manufacturer of the Max! Healthy Vending Machine. Our Mission is to get healthy snacks and nutritious drinks into the hands of Canadian workers and students in every city and province across the country. The state-of-the-art Max! Healthy Vending Machine features both cash and cashless payment systems in addition to a high resolution display monitor, which provides nutritional information on product offerings, and information on community health initiatives. To get more information about Canadian Healthy Vending or to get a Max! Healthy Vending Machine at your workplace visit our web site.