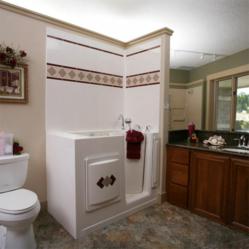 These unique fold up seats can provide more leg room in the walk in bathtubs and handicap showers when the seats aren't being utilized.
Phoenix, AZ (PRWEB) May 23, 2013
A top senior bathtubs company, Aging Safely announces fold up seats for walk in tubs and handicap shower stalls. Finding the best walk in bathtubs can be a daunting task, however this specialty hydrotherapy walk in tub distributor can help make the process much easier due the wide variety of quality brands they provide.
This specialty provider of products that are catered toward the elderly and people with disabilities sells walk in bathtubs and handicap shower systems at very deep discounts compared to several of the top bathroom safety product companies. As a convenience, shoppers can have the option of purchasing the appliance without having installation included. These customers would have the installation performed by their own licensed professional. According to the company, full installations are also available in select locations across the continental United States.
There are many great accessories someone can choose for their walk in tub, although few compare to the uniqueness of the fold up seat option that is offered on select walk in bathtubs and handicap showers offered. These incredibly unique walk in bathtubs have seats that are designed in and can be folded up to create more space in the bathtub. This extra space can be utilized for taking a shower, but can also create more room for taking a soaking bath as well without a seat.
According to Aging Safely, both the walk in tubs and roll in showers now come with fold up seats. This can be a potentially beneficial feature for the elderly or for bathers with restricted mobility to have on their bathing appliance. Additionally, there are different sizes and weight restrictions that should be taken into consideration as well before making a purchase.
One important detail to note is that several of the company's walk in bathtubs are responsibly tested for quality control by third party organizations. This third party product testing is one component that may help ensure customers receive the highest quality walk in tubs and handicap showers available. There are numerous sizes and accessory options that people can choose from that range from temperature control devices, aromatherapy, chromatherapy, dual drains, ozone sterilization, safety grab bars and heated seats to name a few.
It is increasingly popular for homeowners to install walk in tubs, roll in showers and safety grab bars in their own home. This typically comes in an effort to make their homes more conducive to fall prevention and aging in place successfully. In many cases, a major remodel isn't necessary for residential applications. The company offers no obligation consultations that can assist interested parties on selecting the best bathing appliance for their unique needs. Furthermore these specialty bathroom safety products can be purchased from Aging Safely by commercial organizations such as assisted living facilities, nursing homes, physical therapy offices and long term care centers at drastically reduced pricing.
Contact Information:
Zach Wennstedt
1-888-779-BATH(2284)
info(at)Agingsafelybaths(dot)com